Saturday August 17 was the Maritime Series finale. This was race no.4 of a best of 3 race series. It took place in Cap Pele RC Revolution Raceway.
For this race, it was decided that we would run it in the opposite direction we are used to.
I ran 4 classes for this race, 2wd buggy, 1/8 electric buggy, 1/8 electric truggy and 2wd stadium trucks.
With 90 entries, this was the biggest race of the series. For this reason, we had to settle for 2 qualifiers and then the mains.
In 2wd buggy, i had some steering issues on this low traction dusty track and made a few changes to my setup and got it ready for the B main. I was starting 2nd on the grid. I had a slow start falling back to 3rd but i was able to take back the 2nd spot where I finished, getting the final bump spot to the A main. In the A main, starting last on the grid, i was able to climb to 7 place but a few mistakes sent me back to last. (2wd buggy equipped with Pro-Line 4-rib in front, and Hole Shot M4 in rear)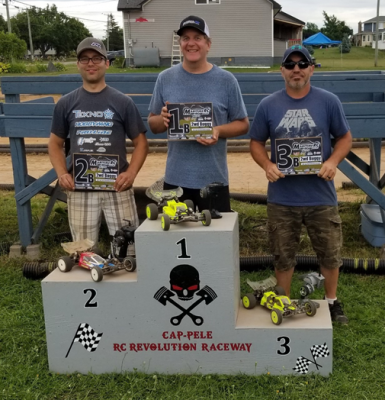 In 2wd Stadium, which I borrowed for this race, i was able to qualify 2nd. Since it wasn't mine, i drove it with caution not to break anything and this proved to be the right thing to do. Slow is fast! I was really consistent in the A main and took 2nd. (Stadium equipped with Pro-line Calibers in rear and Hole Shot in front)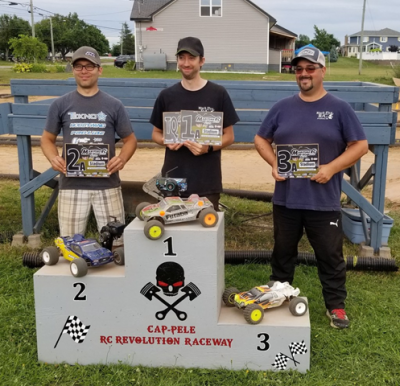 Now to 8th scale buggy. I needed a TQ and a win to get the top honors of the series, and I knew it wouldn't be an easy task! I fought as hard as I could but ended up qualifying 6th. In the A main, I raced a flawless run, climbing positions and taking advantage of others mistakes. I finally ran out of time and settled for the last step on the podium, giving me the 2nd place overall in the Series! (1/8 buggy equipped with Pro-Line Buck Shot M4 front & rear)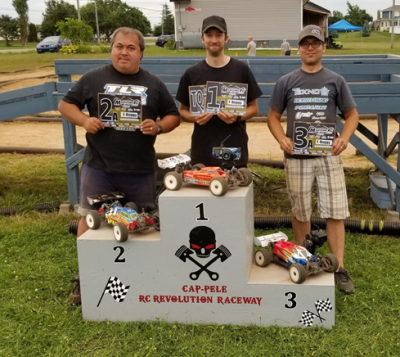 Finally, in the 8th scale Truggy class, the overall 1st place in the Series was already secured but i was in good standing for the 2nd place overall. I qualified 3rd after the 2 qualifier rounds. In the main, right after the start tone, the top 3 were able to break away from the remainder of the pack, following the 2nd place really closely With only a few seconds to go, the leader made a mistake and flipped! I was able to pass him while he was getting marshalled and i lead the race for a lap until i got hit head on after another racer, that was a few laps behind, missed a landing in the opposite lane, making him fall into my lane and getting stuck into my wing. While waiting for the marshall to untangle us, i lost the pole position and i heard the end tone. I had a small chance to catch him back but not enough time! I finished 2nd giving me the 2nd overall place in the Series. (Truggy equipped with Pro-Line Hole Shot M4 front & rear)