This past weekend was the 4th annual Desert Classic at Hobby Action in Chandler, AZ where I would run mod 2wd and mod 4wd. The facility as always was top notch, the track layout was fast and flowing, the middle rhythm section was really cool since there was multiple ways to get through it and it was challenging.
We arrived Wednesday for the first day of practice and just worked with the team to get our cars setup for the track conditions. The track started out really loose and we were running treads, both cars were really good, easy to drive and fast. We used this time to break in some tires.
Thursday was another day of open practice with one round of seeding, again we continued to break in tires and work on our setups. Seeding was really close as always but I was able to top seed in 2wd and seeded 3rd in 4wd.
Friday for qualifying there was a lot more maintenance done to the track with a regular watering schedule and blowing the track off after every run so the grip went up super fast and super high. This made it challenging to keep up with setup. We had two rounds of qualifying, again my 2wd was awesome I was able to tq both rounds. In 4wd we struggled with setup on the high grip to make the car consistent and easy to get around the track.
Saturday was another 2 rounds of qualifying, we made small changes to the cars as the grip continued to get higher, I was again able to tq both rounds of 2wd to take all 4 rounds and give me overall TQ. In 4wd I would end up qualifying a disappointing 9th overall.
On Sunday we would have triple A mains for both classes, the first two A mains in 2wd couldn't have gone any better and I was able to win both and take the overall win. As for 4wd starting in the back I knew it would be a struggle and in the end I would only finish 7th overall.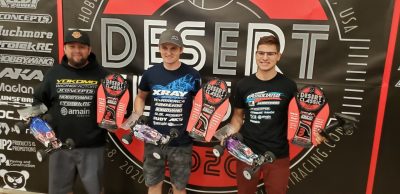 Thanks to Tony T. for the marshall help during the mains.
I want to thank my sponsors for allowing me to do what I love to do and giving me the best products to do it with Xray, RC America, Pro-Line, O.S Engines, Hobbywing, MKS, A Main Hobbies, HUDY, VP fuels, Protek Rc, EZ Customs, Stickit1, Lunsford, Avid rc and 110% Racing. Thanks to my family for all their support, help and the sacrifices they have made throughout my career and most importantly I would like to thank by Lord and Saviour Jesus Christ, without him I would not be where I am.