In late January I attended the Southern Indoor Championship (SIC) in Autaugaville, AL. As always the highlight of the weekend was getting to hang out with all of my RC friends and fellow RC Racers to do what we love.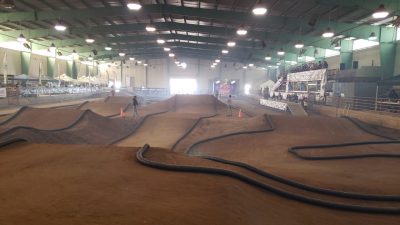 This weekend I ran three classes:
40+ Ebuggy. I ran my brand new Mugen MBX8 Eco Team Edition with a new set-up and was really overwhelmed with how well the car performed. All it needed was a better driver!!! I qualified 6th Overall in the A-main and would finish 7th in the Double A-mains.
40+ Nitro Buggy. Running my Mugen MBX8 I had disappointing qualifying rounds simply because I was not able to put in a good run. Qualifying 12th in the B-main I was finally able to put in a solid run and finish 2nd with a Bump up to the A-main! In the A-main I had another good run and ended up finishing 9th Overall.
Open Nitro Truggy. With the Mugen MBX8T I struggled all of qualifying with engine issues landing in the B-main in the 11th spot. With engine issues hopefully behind me, a bad bearing in the rear diff prevented me from racing in the B-main. C'est La Vie!!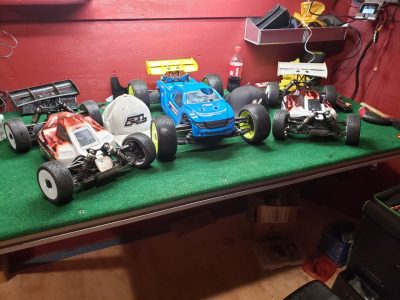 Pro-Line tires graced the Mugens this weekend running anywhere from Pro-Line Hole Shots, Buck Shots, and Slide Locks. During qualifying the softer compounds like M4 and M3 were working great with the M4 Slide Locks giving me my best runs. During the mains the track was drying and traction was building so the harder compounds were the choice finally running Slide Lock S3's in final main of the day.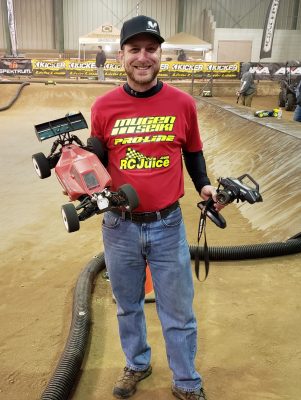 Huge thanks to my sponsors Pro-Line Racing and Mugen Seiki for the continued support of the hobby I love!