This past weekend was the Reedy Offroad Race of Champions held at the world famous OCRC Raceway in Huntington Beach, CA. The Black family and their staff again went out of their way to make sure that everyone had everything they needed in their amazing facility.
We arrived at OCRC on Wednesday for the first day of practice for the open class and pit setup, it was the first time we saw the layout in person and my first impression was that it look like a lot of fun and very challenging, and it looked like it might have a lot of places to pass. I was excited to get on the track for the invite practice on Thursday.
We were able to glue up the handout set of tires and prep our cars on Wednesday as well as help the open class team drivers get their cars setup.
Thursday the invite class got three rounds of practice for each class, along with the open classes getting practice in between. This would be our chance to break in our tires, get some laps in on the track and make setup changes as needed. My 4wd felt awesome in practice and I was confident going into racing as 4wd would be the first class we would run. My 2wd was lacking rear grip and I wasn't sure if it was the tires or the setup but I knew that the track would come in by the time we would run the 2wd portion.
Friday the invite class had four rounds of heads up racing, I only had one front row start so I knew that it was going to be a challenge.I just went out and tried to make the best of my starts. The track turned out to be more difficult than I thought it would be especially if you were leading. The rhythm section while being very fun it was extremely challenging, and passing was more difficult than I thought it would be which made for even more exciting racing.
The sauce that they chose this year was different from other years, it was very aggressive, I sauced how I normally would and it was clearly too much as it made the tires swell and created an air gap between the tire and the foam which made the car very hard to drive. I was forced to use a second set of tires which would give me a slight disadvantage to those that were still able to use the same set for the entire event.
Saturday was the final two rounds of 4wd and I was able to take the win in my first heat of the day. At the end of the 4wd portion of the race I believe I was sitting 5th which to me was very disappointing because my 4wd felt alot better than my points showed. My car was super easy to drive and felt very good and I feel that I should have done better in the 4wd part, I made a lot of uncharecteristic mistakes, and I just couldn't seem to catch a break, it seemed that if someone crashed in front of me I always got collected.
For the 2wd portion there would be an open practice before the start of the races, I made some changes to my car based on what we had figured out as a team with the open class drivers. In the final practice my 2wd felt way better than it had on Thursday, and I was excited and had more confidence. Again though I could tell that my tires were developing a small air gap, so I glued up another set to try and break in Sunday morning in the open practice. My car setup felt good, I made some slight changes for it to be a little better but I felt that with the air gap developing in my tires kept it from being perfect. I had good forward drive but on the high speed corners my car felt a little bit floaty and unstable, again this was due to me over saucing the tires on the first practice day.
Sunday we had another practice in the morning in which I tried some more setup changes and felt my car was better yet even on new tires, having a first position start I was able to take the win in my first race of the day and I felt confident as I knew my tires would get better throughout the day. My last three races I would have starting position either in the middle or in the back which made it very difficult to try and move up, I again had some bad luck but tried to make the best of where I started. My car felt awesome again and I was disappointed how I finished because of how easy my car was to drive and I felt that I should have done better.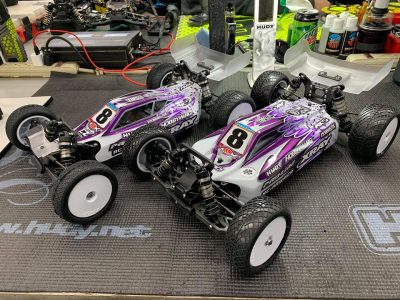 We learned some things and are still making progress on the setup for the new car. Everything in my program worked flawlessly, I just struggled to put the drives in that were needed to take the win. I would have to say that this layout was by far the best Reedy layout that I have raced on, unfortunately my 6th place finish is the worst finishing position I have had at Reedy since I switched to Xray which is unfortunate because I think the cars are the best that they have ever been.
Thanks to all my sponsors for allowing me to do what I love to do and giving me the best products to do it with Xray, RC America, Pro-Line, O.S Engines, Hobbywing, MKS, HUDY, VP fuels, Amain, Protek Rc, Lunsford, Avid rc, EZ Customs, Stickit1 and 110% Racing. Thanks to my mom, dad and sister for all their support and help and most importantly I would like to thank by Lord and Saviour Jesus Christ, without him I would not be who I am today.