Saturday June 29th was the second round of the Maritime RC Racing Offroad Series held at my track, Black Fly R/C.
We redesigned the whole track a week before,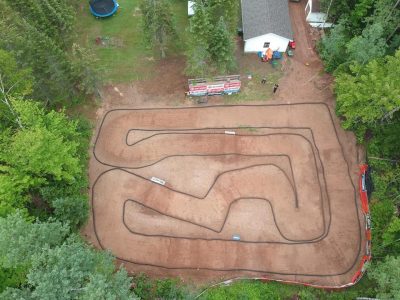 so it was a new layout for everyone.
I raced 1/8 buggy with my Tekno Eb48.4 powered by a Hobbywing Xerun Xr8 SCT electronic and 1/8 truggy with my Tekno Et48.3 powered by a Hobbywing Xerun Xr8 Plus. Both of my cars were on Pro-line Racing Wheels and tires. I used Buck Shot in M4 compound on both for the track condition, which was hard compacted clay, that was damp, with little dust.
I was able to qualify 3rd in eBuggy and 4th in eTruggy. The track was challenging and very fast, it had little to no place for mistakes.
Starting with eBuggy, i had a really good start and taught i would be able to get the inside of the first corner but hit the pipe and flipped. This dropped me in last place and i had a whole 7 minute to climb up. I fought really hard and sometimes a bit too aggressive that costed me. I was able to get up to 4th place, 1 lap behind the leaders.
In eTruggy, again starting from a good position, i didn't want to have the same thing happen to me so i decided to play it safe in the first lap. It paid off as the leader flipped at the first triple jump, and i was able to get by without issues. I was sitting in 2nd place for 3/4 of the race, kept my pace following the leader. I made a little mistake with about a minute to go and had to settle for 3rd place.
My cars felt really good, and the competition was strong! Can't wait for round 3 at the end of July.