This weekend, was the annual Pro-Line Shootout at Thornhill Racing Circuit. We had 189 entries this weekend over many classes, sportsman and open classes, with some 40+ classes as well. Also we were graced with the presence of Factory Mugen pilot Adam Drake. The tire for this event was the Pro-Line Buckshot in M3 compound.
The entry count for the open Etruggy was a little lower than i expected, so i didnt focus much on setup and practice for that class. I really worked in practice for the buggy class, with a list of drivers that would make getting into the A main, very difficult. learning the new layout took some time, but once i found the lines i was going to take, i started working on some setup with shocks, and ride heights. The temperature was pretty high this weekend, and i felt the stock oils i was running was a little too soft, and decided to make a 50cst increase in the shocks. Also put on a new set of Proline Lexan Wings for the event as well.
in Qualifying in ebuggy, first round i went out, had a couple of mistakes, with some long laps, and was 20th overall. In Q2, while on a run that would probably put me closer to the top group, i made a mistake going on to the front straight, hit the pipe that led to pit lane, and broke the upper shock tower mount ending my run. In Q3, again, on a good run, good enough for possibly a top 12, i traction rolled in a spot where a marshal would take a while to get me, cost me 10 seconds on that lap, i ended up again 19th. Seeding me 20th overall which was 10th in the B main.
Truck qualifying, in Q1, i was running in first place, and landed short on a right hand double which snapped my upper inner camber link, ending my first round run. In Q2, i was able to put in a solid run, and get a 4th place overall. in Q3, being conservative, i would have a late bobble, and cost me 8 seconds overall, and i would finish 6th overall, and qualified 5th overall.
Main Day,
first main was the B main in open Ebuggy, starting 10th of 12, i got a good clean start. made it around to the whoop section still in 10th, where i would pass 5 people through the whoop section. the valve pistons are something special for sure. by the end of the first lap after some mishaps from others, i was running 2nd, behind robbie darby who was the top qualifier for this main. he had about a 3.5 second gap, and i had some drivers close in on me. 2nd lap through the whoop section a mistake by 3rd place, would cause a pile up, giving me about an 8 second gap. Robbie opened his gap. From then on i was managing the gap, no mistakes, and finished 2nd, bumping into the A main. Beating many top level drivers such as Mugen driver Jonathan Coral, VRP Mike Ankey, Losi Traig Clark, AE driver Rocco Margiotta, Losi Frosty St. Clair. Everything after this was a bonus for me, because getting into the A main in this class was a win in itself.
Truggy A1, good descent start, made a pass for 4th on lap 2, and challenged Frosty for most of the race for 3rd. But finished 4th.
Ebuggy A1, got a good start, but everyone was quick through the whoop section, i made up 2 places in the whoops, and had a long battle with a long line of cars, all the way up to 5th. this line was a train of cars from 5th to 12th. a late battle with teammate Evan Jones, and a mistake would drop me to 11th, where i finished. i would run my fastest time of the weekend in this race.
Truggy A2, i got a rough start, dropping to 6th. the track was slicker than i thought it would be, truck never really felt good on corner exit, and drive out of the corner. i battled back to 5th after the leader tangled with 5th place on the last lap, allowing me to pass and take 5th, and finish 4th overall.
Ebuggy A2, again, back of the grid, good clean start, never really got into a groove with the track being as slick as it was. i battled for a little while with teammate Evan Jones, but i just couldnt get the grip, i ended up 11th again. finishing 12th overall.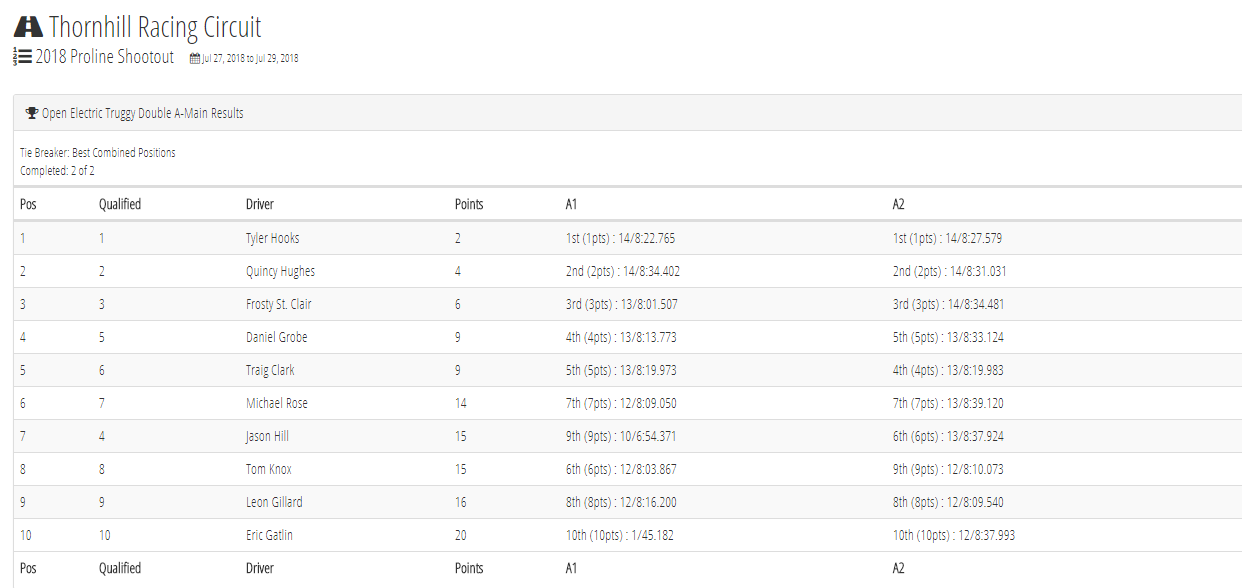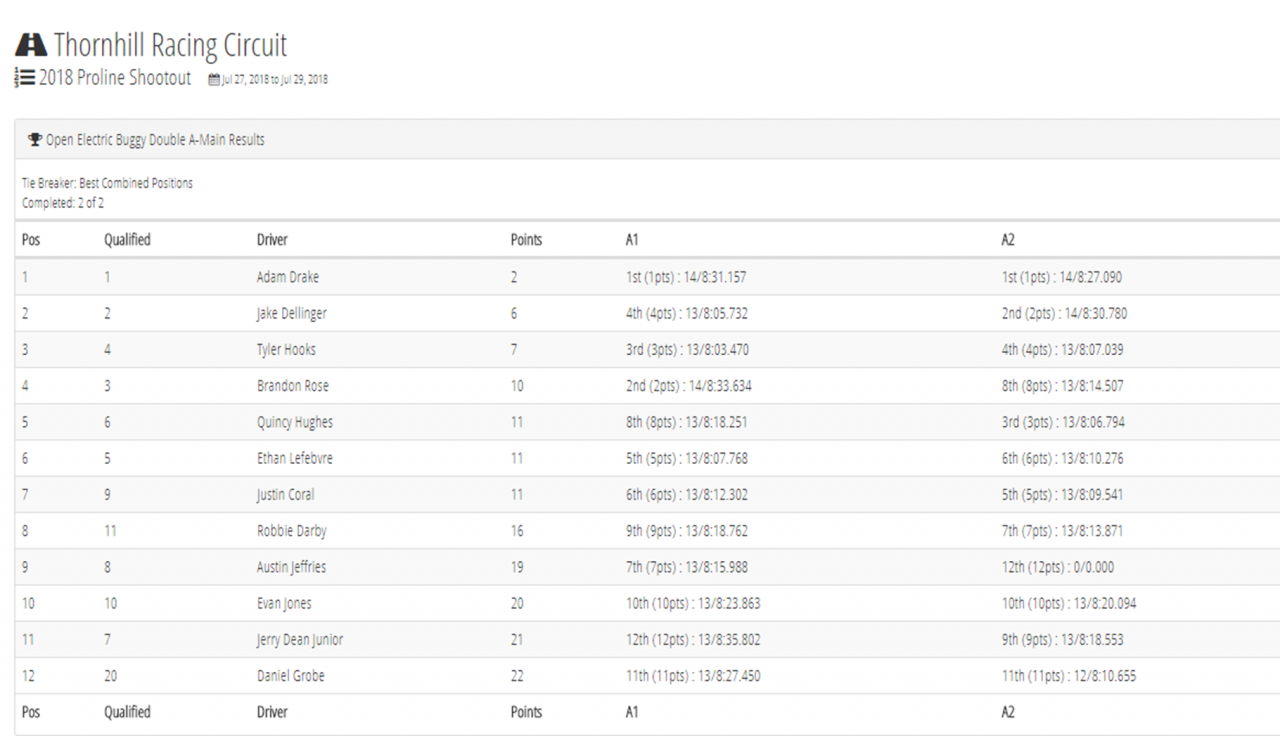 Truggy Podium
1. Tyler Hooks – Tekno
2. Quincy Hughes – Associated
3. Frosty St. Clair – Losi
4. Daniel Grobe – RCA/Xray/Proline
5. Traig Clark – TLR
Pro-Line Products
Pro-Line Truggy Body
Pro-Line Ebuggy Body
Precut Trifecta Lexan Wing
Buckshot Buggy
Buckshot Truggy
Velocity V2 Wheels
Velocity VTR wheels