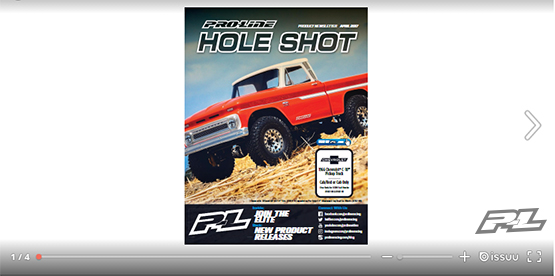 The Pro-Line 1966 Chevrolet C-10 2-Piece Body (also available cab only). Raising the bar for Scale detail in a Lexan body.
Join The Pro-Line Elite.
Featuring the All-New Fully CAD Designed Buggy Body for AE B6/B6D and AE B64/B64D. Pro-Line Pre-Cut Air Force Wing, Front Wing, Positron, Electron, Prime, Hole Shot 2.0, and 4-Rib Tires
New Releases include the 1966 Chevrolet C-10 Body in Cab & Bed and Cab Only versions for Rock Crawling. In 1:10 Buggy we have The Elite Body for AE B64 & B64D. In Solid Axle Monster Truck we have the New Guardian Body and the 2007 Chevy Silverado Body. For PROTOform we have the new R19 Body for 1:8 On-Road!