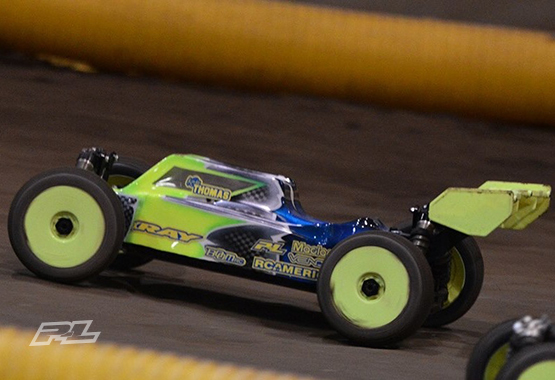 After a strong first practice run (45th) in Expert E-Buggy, the rest of the day was rough and carried over into day two. In each E-Buggy qualifier, I dropped further down the board (58th, 74th and 66th), which put me in the H-Main. I don't want to make any excuses, I pushed too hard and made too many errors to qualify in the upper half of the Expert E-Buggy Division. I also need to get the mental aspect in check because my racing has struggled to start off the New Year. Instead of having fun, relaxing and focusing on racing lines, I am constantly dwelling on results and trying to justify that the team managers who selected me didn't make a mistake. I believe I finally, snapped out of it on the third day of Motorama and was able to get on the driver stand and have fun again and enjoy guiding my buggy around the track instead of constantly worrying.
Kevin Ran Pro-Line Fugitive Lites on his E-Buggy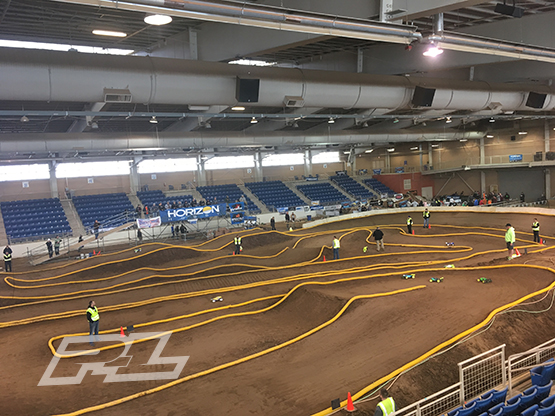 Motorama features double mains at all levels and the first H-Main was Saturday evening. I still struggled with my own driver errors early in the race and ended up 3rd after cleaning things up the second half of the race. When I returned to the track Sunday morning I had a different mind set, I just wanted to have fun especially since it was my last opportunity to run on 2017 Motorama track layout. I went out relaxed and had fun; I kept my race very clean, smooth and consistent. I was able to put down 11 laps, which put me a lap ahead of the field, my time was solid and would have been good for 10th in the B-Main or 4th in the C-Main. It reinforced the fact that I need to focus on having fun again regardless of sponsorships. I want to focus on always being professional and a great ambassador for the brands I represent but I can't continue to get wrapped up worrying if I am good enough or if the companies will think they made a mistake selecting me as a team driver. It was a great way to end my weekend in Expert E-Buggy.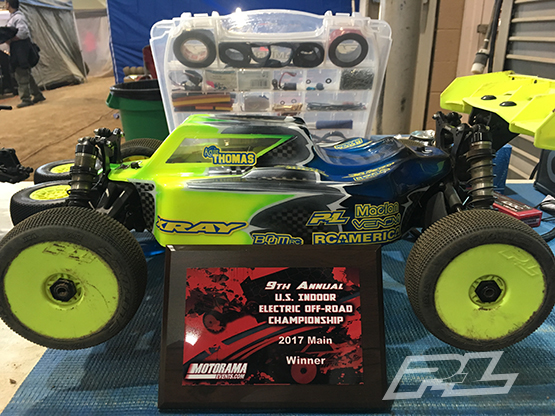 The short course truck was very similar to my E-Buggy to be completely honest; the field was easily the most competitive from top to bottom of any race I have been to including races like Wicked Weekend and Psycho Nitro Blast. The level of drivers was very impressive; I pushed my truck too hard, which never ends well. I had good lap times and speed but the failure to remain consistent was my downfall. I fell into the D-Main and hit the reset button. After I began focusing on smooth error-free laps, I was able to put down a respectable run and bump into the C-Main. I started 12th on the grid which is a difficult position to be in, I made my way up to 4th missing the chance to bump again. In the second C-Main, after a few minutes I found myself in a good spot and continued to keep my truck on all four wheels while running good laps. The result allowed me to win the overall C-Main, originally I would have thought the C-Main was a horrible finish but the B-Main was stacked with top drivers from all over the East Coast. I would have like to qualify better but I believe I was able to pull things together on the final day and make the most out of the weekend. I learned a lot and really enjoyed my last 3 races so I will build from this experience and strive to continue learning and improving as a racer.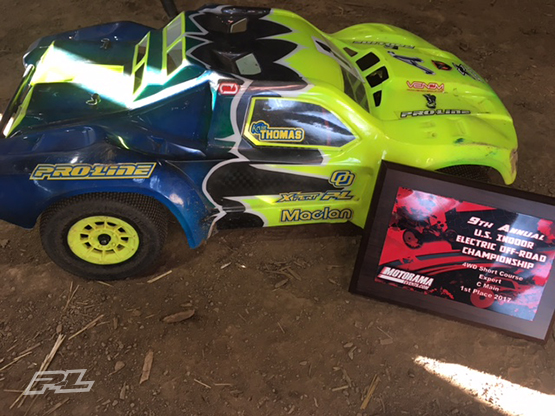 Sponsored Products Used:
Chassis- XRAY XB8e
Electronics- Maclan MR4 4150kv, Maclan MR8 1950kv, Xpert SI-4531, Xpert SI-4431
Tires- Pro-Line Fugitive Lites (M4) and Pro-Line Hole Shots (M4)
Batteries- Venom 6300mAh 70c 4s and Venom 7200 100c 2s
Bearings – Boca Bearings Green Seals
Apparel and Decals -BOOMrc Shirt
Traction Compound – Sticky Kicks 'Pink'