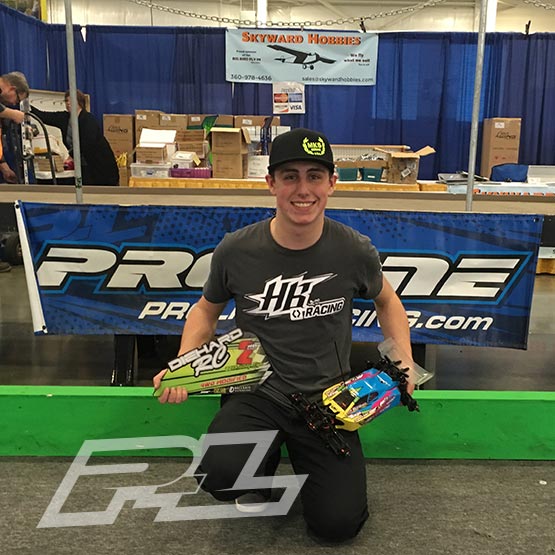 This past weekend was another installment of the Northwest Model Hobby Expo held annually at the Evergreen State Fairgrounds in Monroe, Washington. Prior to last year, this show primarily held host to a number of model boat and plane clubs, drifters, and crawlers as well. A nice slow pace for those who enjoy the detail oriented side of the RC industry. Last year at this show, however, Diehard RC, a group of individuals who sought to fill the void created by our loss of our closest clay indoor track, brought the introduction of speed.
Travis raced to 2nd place in 4WD Buggy Class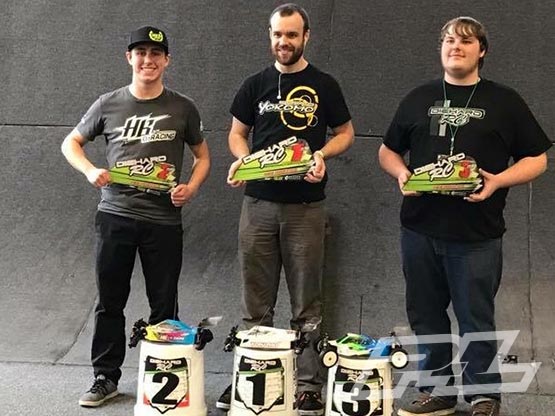 Since the fall of 2015, Diehard RC has been traveling throughout Snohomish County. A previously astroturf, now carpet surface rolled out of a trailer and built and taken down for every scheduled race. Starting last year, Diehard started filling some space inside the Hobby Expo, and we setup for our now annual three day event.

This year's race was formatted like most three day RC racing events. Practice on Friday, Qualifiers on Saturday, Mains on Sunday. I spent all day on Friday trying things on my HB Racing D413 that I thought could help me find a balance between Speed and Stability. On Carpet, both are important, and the 4WD Buggy class is arguably the most demanding class on artificial surfaces. I found a great setup that day that I felt like was fast enough to win, and so I put my head down and got to work.
Qualifying day was very good. I opened up in Q1 with a rather slow but consistent 21/5:01 which was good enough to put me 2nd overall behind HB's Carson Phipps. It was not the time I had hoped for but I had two more runs to make work of it. Q2 went much better as I as locked in and focused on my driving more than anything and payed less attention to what the car was doing. I threw down a 23/5:13, a completely mistake free run, and set the TQ time for Q2 right in front of Northwest Hobby's own Brad Borneill who has been throwing down on carpet with us all season with his Yokomo YZ-4, and has really forced us to drive beyond our comfort zones. I felt really good to have thrown down what would be the fastest time all day. Q3 went a little less well as I started pushing a little too hard trying to find my limit and I made way too many mistakes to be close to the top. Brad would end up taking TQ in Q3, and since my Q1 time was rather slow, he would beat me in the tie-breaker for the overall TQ, so I would be starting 2nd on the grid for Triple A mains on Sunday. While my Q3 run was frustrating, it showed me where the limit was and how important consistency is as opposed to speed, so I felt very confident heading into Sunday.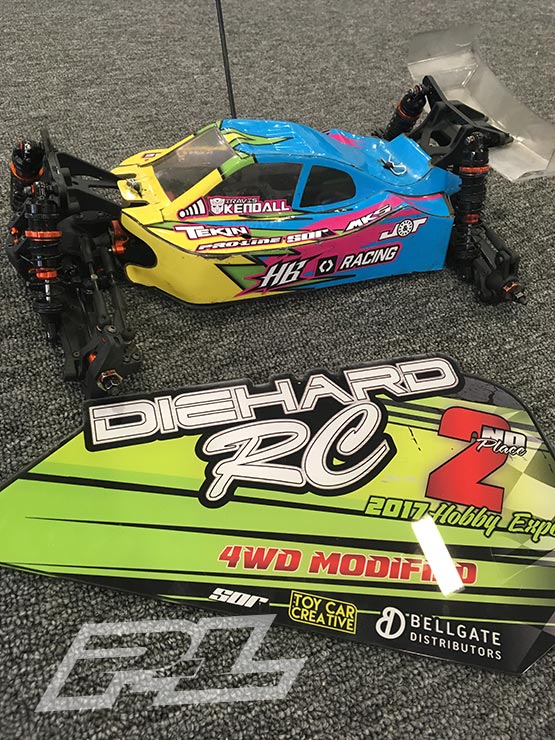 There was a sense of relaxation in the air as I arrived at the Expo Sunday morning. I showed up around 7:30, racing wouldn't begin until 9am and I wasn't up until race 12 for A1 of 4WD Buggy, so I took a lot of time going over the D413 that morning. I replaced the castor blocks, assembled new front drivelines and axles, lubricated and installed new bearings, and completely redid my suspension. I felt confident in my ability to push for the win.
A1 would drop and I would get a terrible start as I was accidentally hit off the start which sent me close to the back, so I charged hard to make my way up to the front. I settled up in third where then Diehard's Tyler Wilbur and I would battle it out for the remainder of the race. I made the pass and let it stick and I would finish 2nd in A1 behind Brad Borneill.
A2 would go a little less my way. I got a great start but on the third lap I traction rolled and fell mostly to the back. I made my way up to the front again back up to third and I finished just a few tenths behind Tyler Wilbur. Brad would take A2 and lock up the overall, Wilbur 2nd, me in 3rd.
A3 would put me first on the starting grid since Brad could not run A3 as he had already won A1 and A2. This race would determine what the podium would look like as mathematically it could only be Tyler and I on the podium. This race would determine the final order. I got a clean start and drove solid and consistent, trying to make sure I didn't push too hard and start making mistakes. I could tell Tyler had made his way up to 2nd but I still decided to keep doing what I was doing. Towards the end of the race Tyler had a few rough laps and that would give me a lot of space where I could just cruise to victory. It felt good going a whole main without making a mistake, and as such I would finish 2nd overall for the day with Tyler in 3rd.
It was an awesome weekend and even though we didn't get the job done, I learned a lot. Next stop is Cabin Fever 2017 in Lewiston, Idaho in less than two weeks, so it's time to get the cars ready for dirt!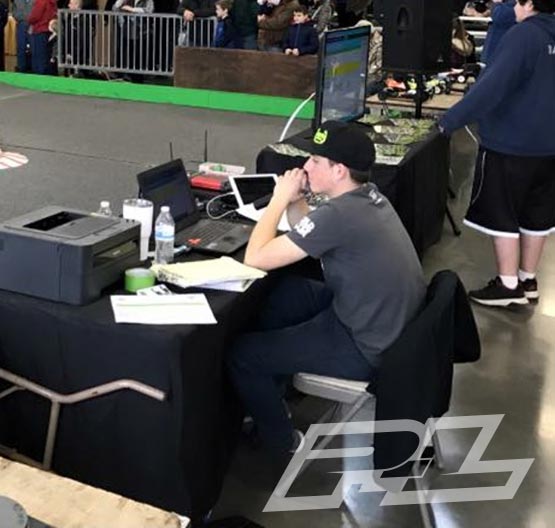 Thank you to all my sponsors for supplying the best equipment around:
HB Racing
SOR Graphics
Team Tekin Racing
Pro-Line Racing
MKS Servos USA
J&T Bearing Company
Altra Running
Diehard RC
Thanks!
Travis Kendall
SOR Graphics