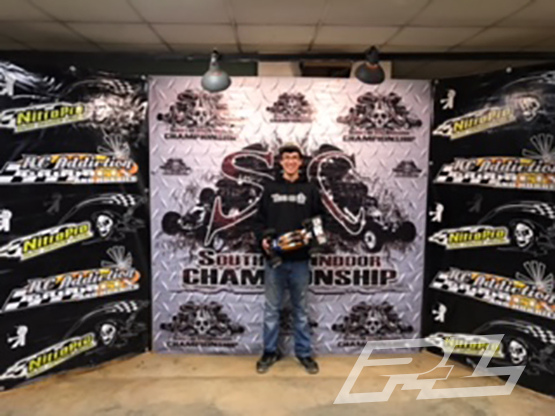 Had an awesome time this weekend at SIC in Alabama! Facility was top notch and the program was extremely well ran by Lance MacDonald and sub Patrick Rossiter!
As far as qualifying I had a bit of a struggle in the nitro classes with consistency, having the first two rounds go rough and the last ones top 10s I was stuck in the B-Main for both Pro Buggy and Pro Truggy. After an awesome hole shot off the gate drop in Buggy I would have the lead for awhile and after dropping off a bit held on a bump to the A-Main!
Pro-Line M4 Hole Shot, ElectroShot and MC Suburbs were hooked all weekend with the support of Brian Lewis!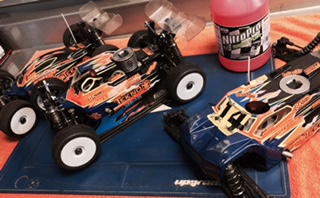 In Pro Truggy I had a bad race with traffic about 5-minutes in getting booted off the track twice without a Marshall seeing, putting me dead last, by the end of the race I worked all the way back up to finish 5 feet behind Jake Spaulding for the bump. (Side note awesome runs Jake!) Going into the mains there was triple A-Mains E-Buggy Mains and a 30-minute Pro Buggy final!

In Pro Buggy I changed a bit from the B-Main and In warmup my NB48.4 was amazing! Feeling confident with pace I decided to be safe on the gate start and take it easy, unfortunately that wasn't possible as I ended up getting smoked and broke out on the first lap.  Racing luck happens and I'll be back at the next one! Even with the issue I still thought the gate start was pretty rad! On to E-Buggy… in the first main I had a solid run that was 8th overall! In A2 I attempted a holeshot, missed and ended up about 1/2 a lap back haha, came back to 9th! In A3 I noticed the changing track conditions and decided to take a big risk and run clay compound Suburbs. That turned out to be the ticket after having an awesome battle for the entire race with Cole Ogden for 5th even turning a 28.0 fast lap! Sadly I got tangled in the bowl pit with a minute to go delegating me to 8th. Overall ended up 10th! All in all I learned a lot and had lots of speed with a bit of bad racing luck. Definitely will be back! My Tekno NB.4, Eb.4 and Nt.3 were all amazing all weekend with the help of Matt Ryan and Joe!
Pro-Line M4 Hole Shot, ElectroShot and MC Suburbs were hooked all weekend with the support of Brian Lewis!
Triton L5s performed flawlessly with 9:15 mileage in buggy and 9:45 in Truggy while still providing gobs of power! BK Servos stayed cool and precise in all 3 cars!
Thanks to all My Sponsors for their continued support, Joe, Matt and Ryan, and most of all my parents!
Tekno Rc, Pro-Line, Triton Rc, BK Servo, Nitro Pro Fuel, Race Em Rc, PT racing oils, Bonnell Industries, Wiggins Farms, Legit Lidz
– Jared Wiggins