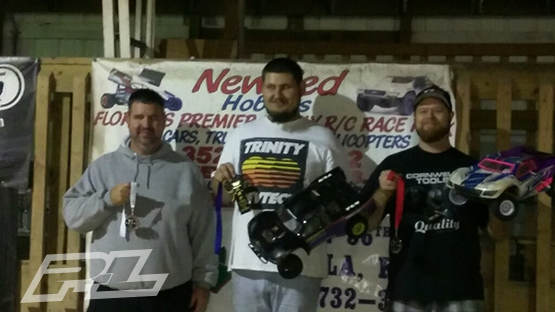 Was a good racing Thursday night at New Red Hobbies. Raced Stock Buggy, Stock SCT, and Mod Buggy, had to relearn to drive my stock car as I just put a new trinity motor and installed a lay-down transmission and had about 3 laps of practice on my stock car before qualifying.
Traction wasn't a problem with the Pro-Line Primes, they were amazing.
Didn't do that great in qualifying in Buggy and started in the B-Mains finished second and started 10th in the A-Mains. After a hard race finished 3rd right behind 2nd.
In mod they put Mod and 4WD together. It was a fun race and finished 2nd after setting the TQ.
Stock Short Course will always be my favorite class,had 2 great qualifying rounds and set the TQ in the second round. The race went flawless and took the win. My trinity motors were unstoppable  and white carbon batteries are perfect.
I want to thank all my sponsors for all the help and support.
– Justin Olds