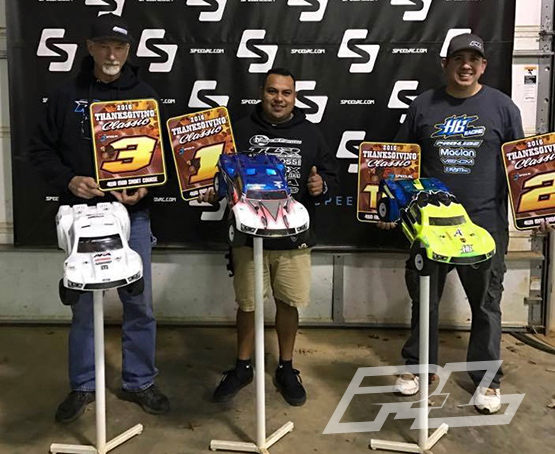 Continued my trek around the region; this weekend took me to Mooresville, NC for Speed RC's Thanksgiving Classic race. In order to maximize my track time and justify my travel, I entered three classes; 4WD Buggy, 4WD and 2WD Short Course Trucks.  I was close to reaching the podium in all three classes but fell just a little short. I ended up with TQ and 2nd place in 4WD SCT, 3rd place in 4WD Buggy and just shy of the podium in 2WD SCT with a 4th place finish.
Speed RC utilizes the same clay as Beach RC allowing me to run the same setups and tire combinations on all my vehicles as the previous weekend.
I ran Pro-Line Electrons (MC) on my Trucks and Positrons (MC) on the rear of my Buggy with Electrons (MC) up front.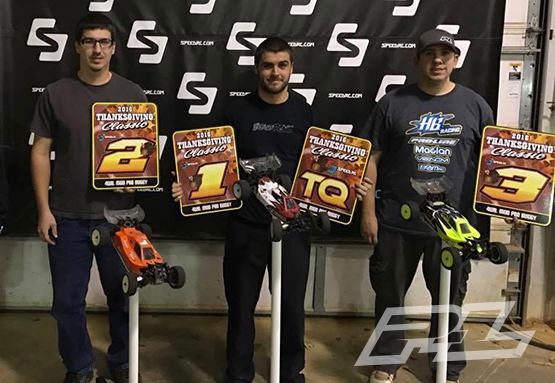 For the second straight weekend, qualifiers went extremely well as I was able to TQ all three rounds of 4wd SCT and claim 2nd place in all three heats of 4wd buggy. I am happy with how I am racing during the qualifiers but I think the mains are becoming a bit of a mental game. Expectations or possibly tight, heads up racing at the beginning of the mains are leading to some unforced errors that are not occurring during the qualifiers. It is something that I will be working on and looking to improve in future races.
It was my first time out with the new Maclan MMax Pro ESC; out of the box the ESC was very impressive with its styling and features. On the track it is just as impressive and performed perfectly in my HB D413. I was fortunate to narrowly squeeze out second place finishes in all three rounds of qualifiers against another D413. The racing between myself and the other D413 driver was very close as each round was decided by one or two seconds.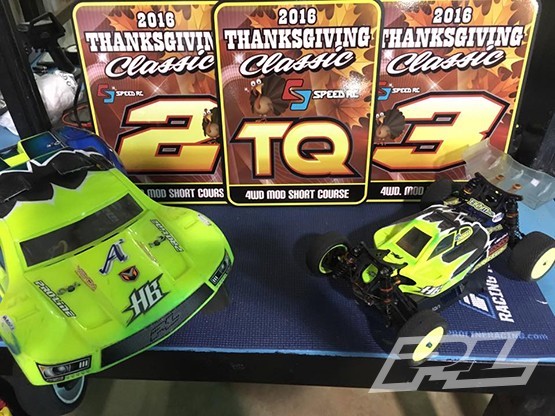 In 4WD SCT, I kept things smooth and focused on tight lines. A long-time racer who has helped me tremendously over the past two years pointed out during the qualifiers that while I was winning each round there were sections of the track where I was losing time in an effort to remain as smooth and consistent as possible. In order to improve as a racer, I need to start tackling some of the more difficult elements of the tracks. Instead I am becoming complacent with running tight lines without wrecking which is adding time that accumulates over the course of a race.  This appears to be a key factor when the races are decided by a mere second or two.
In 2WD SCT, my rear motor Pro-2 handled the tight, indoor track well and allowed me to engage in competitive races throughout the day. I managed to stay in the top three in each of the qualifiers but qualified 4th overall and finished in the same position after the 8-minute Main.
My son accompanied me to the race and decided at the last minute to participate in the novice division. Next up is a return trip to Speed RC for a practice day and an opportunity to tune a test a little. The month of December features a couple big races starting with Badland's Fall Brawl (12/2-12/4) and then the Indoor National Series at Speed RC (12/9-12/11).
Products Used –
Chassis HB Racing D413
Motors Maclan MR4 4150KV / Maclan MRR 8.5T / Maclan MRR 6.5T
Tires Pro-Line Electrons (MC and M4) / Pro-Line Positrons (MC)
Bodies Pro-Line Fusion SCT / Pro-Line Flo-Tek SCT / Pro-Line Type-R Buggy
Batteries Venom 7200mAh and 4500mAh 100C
Servos Xpert SI-4431 / Xpert SI-3401
Bearings Boca Bearings Green Seals and GO Series