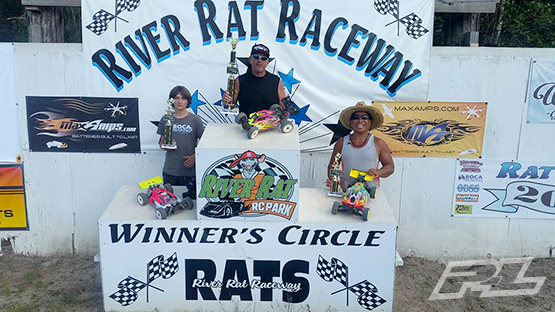 September 10th we headed out to River Rat Racetrack for some offroad racing on the new layout just finished 2 days before racing. Allen decided to run his 1:8 Xray XB8e. We got a small amount of practice in. The car was feeling good with Pro-Line Blockades M4. So we decided to get the car ready for qualifying.
The new layout was so different and more technical than before. Speed was not everything during the race. Qualifying went pretty good with giving us a 4th place starting position in the A-Main. It was a tight finish between Allen and 3rd place for awhile with the two going back and forth. Allen in 2nd place finally got some breathing room between him and 3rd with the guy in 3rd getting tangled up with another car. Coming to the finish Allen was so nervous being out in front of some fast guys on the track.
We took home a 2nd place finish. This make 2 podium finishes for us in last 2 races.
We would like to thank Pro-Line Racing, River Rat RC, FTM Grip
Allen had a great race with some fast people today. He drove his butt off and finished with a 2nd place with his Xray,River Rat, Proline Racing, Ftm Grips Ebuggy

Posted by Shawn Kosier on Saturday, September 10, 2016