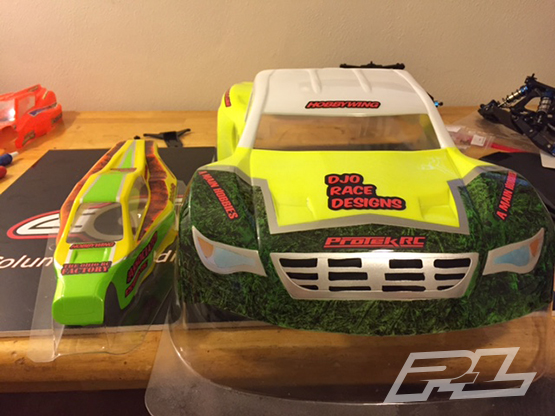 For this installment I am going to go over my thoughts on applying decals on a body for not only a professional appearance but to also showcase the talents of the Little Taco Paint Shop.
Featuring Pro-Line Predator Body for AE B5M and EVO Body for SC TruckWhen I worked on sprint cars one of the things I liked was when a team took the time to make their cars look nice and to give their sponsors maximum exposure. When I can I separate the decals but also keep them off of the paint work if possible. I mean, why have a guy like Taco do a beautiful paint job and then cover up the lines he made?
For the Pro-Line Predator B5M Body we have green, yellow, silver, and what I will call a cheetah print of which I am a huge fan. The first decals I placed on the body were the two biggest. Those are at times the most difficult to find space for on a buggy body and if you start with the smaller decals first you can potentially run out of space. With the Speedy's Racing Parts decals, the first applied, I was unable to keep them off of separate colors. Many of the other sponsor decals also cover up some of the lines and this simply could not be avoided. Another practice to get into is once you choose a space to make sure that a sponsor fits there. More than once I have decided where I want to put something only to find out later that it won't fit and then I have to move other decals because of that. Taking a little time at the start can save you a bunch at the end.
For the short course body we picked out the Pro-Line EVO SC Clear Body. Taco this time went with yellow, white, silver, and marbled green. Now, just because the body is bigger and gives you a lot more space some of the same "troubles" can still apply. I still try to stay off of the paint lines but the placement at times cannot be avoided. Another policy I try to have is to have as much space between the decals so that they stand out on their own; again though this can get difficult to do.
As I have stated with some of my other blogs entries; this is not an exact science and simply how I do it. I need to thank Pro-Line, Speedy's Racing Parts, DJO Race Designs, and Mike "Taco" Mills for helping me with this project.
Now we move into the very best part of this. Both of these bodies will be auctioned off. I will be doing a silent auction for both of them, separately, and the money will be going to charity. Our Daily Bread is local to me and helps serve hungry families in need and every penny raised will go to them and I will provide proof of this once the money is handed over for your tax purposes. The Predator body will have a Speedy's Racing Parts slipper eliminator included. The EVO body will have a Pro-Line Pit Mat included. Both bodies will have the decals specific to them included.
Any questions and your auction amount need to be sent to zeakemedia@gmail.com. Once this is announced the auction will run for one week and the winner will be announced through the social media accounts of Pro-Line and Speedy's.
Thank you very much for your participation and helping out a great charity.