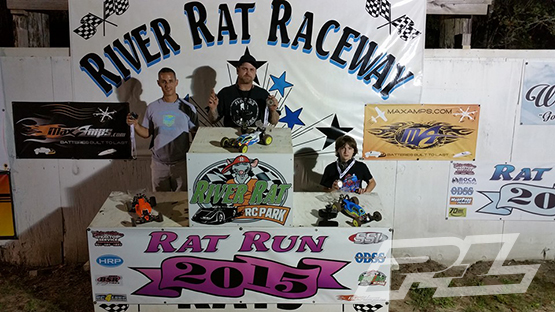 Went to River Rat RC for some club racing after Christmas. Running my FTM Grip/Pro-Line Racing equipped 2WD B5M Buggy.
The track was a bit damp at beginning and tried out some Pro-Line Hole Shots M4 in back and M3 Hole Shots up front. In first qualifier it was pushing and loose in all the turns. Finishing 3rd in the 1st qualifier.
In 2nd qualifier we tried a whole different tire combo. Pro-Line 4-Rib in front and Pro-Line Square Fuzzies in the back and FTM Grip Blast on Tires. Car handled so much better turning 2-seconds faster from his fastest lap from 1st qualifier and finishing in 1st.
Come to the A-Main Allen was starting in 2nd place. A lot of close competition for the Main. At the start Allen tried to jump to the front, but got tangled up in the 2nd turn and flipped on 3rd turn. So he had some catching up to do. With Allen running his laps and was catching them one at a time running a strong and good finish for a 3rd place podium.
We would like to thank his sponsors ‪#‎FTMGrip‬, ‪Pro-Line Racing‬,‪#‎BocaBearings‬ and ‪#‎Riverratrc‬