Check out this latest issue of the Pro-Line Hole Shot Newsletter – November 2023!
This month features many cool products to show you like the "Cateye" UDR body, the Twin I-Beam Conversion Kit, a SUV crawler body and a new tire for 1/8 Buggy.

Transform your Axial® SCX10™ I/II into a 2WD Desert Truck with Pro-Line's Twin I-Beam Pre-Runner Suspension Kit! In the early days of offroad desert racing, I-Beam trucks became the standard suspension setup due to their uncompromised durability, easily attained long-travel and overall simplicity. Now, you can capture that desert racing spirit using your SCX10™ I/II kit as a base to build a 1/10 scale pre-runner.
The Twin I-Beam front suspension consists of two long "I-beam" arms that cross one another in an X-pattern. These arms control the lateral forces applied to the wheels, while radius arms reach backward toward the center skid plate to stabilize each wheel in the fore-aft direction. This super-scale conversion kit utilizes the same geometry setup as 1:1 trucks with true swingset steering and center-mount radius arms to optimize handling throughout the entire suspension travel.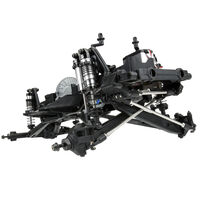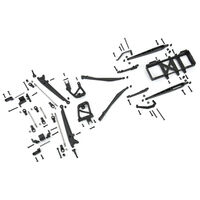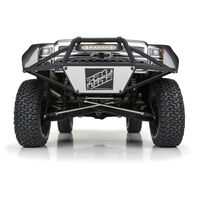 Twin I-Beam 2WD Pre-Runner Suspension Conversion Kit
for Axial® SCX10™ I & II
PRO638500

Introducing the Coyote Grande High-Performance Rock Crawling competition body from Pro-Line! A fresh take on the original Coyote, this 12.3″ wheelbase is aimed at Class 2 and Class 3 crawlers. The Coyote Grande body provides everything that comp crawlers need while providing a fresh SUV-styled look out on the rocks.
The Coyote Grande harkens back to the dawn of the domestic Sport Utility Vehicle in the late 80's. The Grande features a pinched front end, dove-tailed rear, and wheel arches with clearance for tires up to 4.85″ with no trimming needed. Short overhangs provide a best-in-class approach and departure angle, optimizing the body for maximum crawling performance while still complying with the letter and spirit of the competition crawling rules. Don't get left behind get your very own Coyote Grande body today!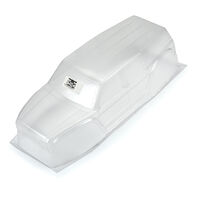 Coyote Grande Clear Body
for 12.3″ (313mm) Wheelbase Scale Crawlers
PRO362500
——————–

Introducing the Valkyrie 1/8 Buggy race tire, an evolution of our popular Slide Lock tire engineered for hard-packed, blue-groove, high-grip tracks.
The innovative tread pattern features strategically placed diagonal rows of lugs that meet up to form an optimized center lug pod. This arrangement has lightened the tire significantly while still maintaining great balance, forward traction, wear characteristics, and bump-handling stability. On the edge of the sidewall, directional tread lets you tune the Valkyrie to your specific track condition for added versatility.
Valkyrie is constructed on Pro-Line's latest generation carcass profile that utilizes a single arc to create the sidewall geometry, then transitions from the sidewall to the crown with a larger radius resulting in a rounder and less edgy appearance. This carcass provides a tailored fit to the wheel and insert package, making mounting a breeze. Racers can expect the Pro-Line Valkyrie tires to deliver improved consistency, drivability, and durability.
The Valkyrie is available in three popular compounds (M3 for watered tracks, S3 & S5 long wear for more abrasive dry tracks) and includes our latest generation closed cell foam insert.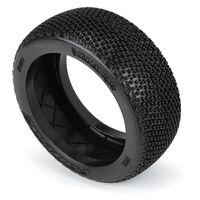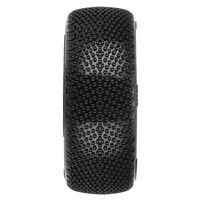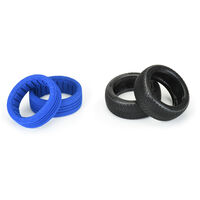 Valkyrie Off-Road 1/8 Buggy Tires (2)
for Front or Rear
PRO907702 | M3 (Soft)
PRO9077203 | S3 (Soft)
PRO9077205 | S5 (Ultra Soft)
——————–

One of the most popular trucks utilized to build full-scale pre-runners and trophy trucks, the classic "Cateye" Chevy now comes to the Unlimited Desert Racer® platform with all the scale details you know and love from Pro-Line. It features aggressively flared fenders for a muscular stance and bolts up directly to the stock UDR cage for a perfect fit.
The Cateye Silverado™ body comes clear so you can custom paint your truck to match anything your heart desires: Go full factory Chevrolet® to replicate legendary Baja 1000 style race trucks or match your favorite garage-built pre-runner project truck! It's made in the USA from a high-quality, crystal-clear polycarbonate material and is fully pre-cut for your convenience. Pair the Silverado™ with the Mirage TT Belted Tires (PRO1022410) for the ultimate upgrade in both style and performance for your UDR®!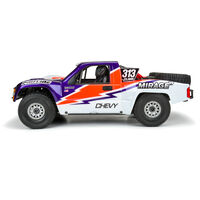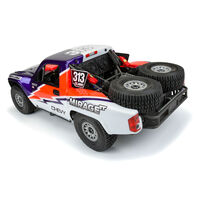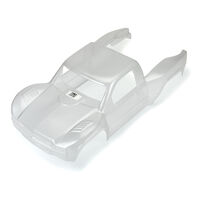 Pre-Cut 2007 Chevy® Silverado™ Clear Body
for Unlimited Desert Racer®
PRO362417
Unlimited Desert Racer® is a registered trademark of Traxxas® L.P.