Check out this latest issue of the Pro-Line Hole Shot Newsletter – September 2023!
This month features a new Crawler Tire, Scale Chevy body, Toyota TRD for Short Course and some awesome looking PROTOform bodies.

Pro-Line and Toyo have once again teamed up to bring a high-performance rock crawling tire to 1/10 1.9″ Rock Crawlers: this time, the Open Country R/T Trail! The R/T Trail is a rugged terrain offers excellent traction in our legendary G8 compound with aggressive styling to tackle even the most rugged terrain.
Sized at 4.75″ tall, the Open Country R/T Trail features extra-thick shoulder and sidewall lugs that dig into deep and soft terrain. The tread features wide lateral zigzag groove with ejectors to provide superb traction throughout the tires wear life.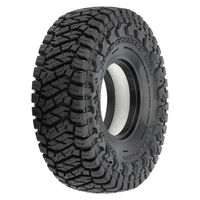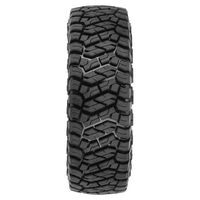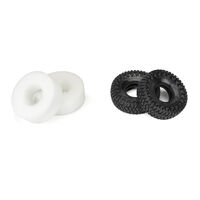 Toyo® Open Country® R/T Trail 1.9″ G8 Rock Terrain Truck Tires
for Front or Rear
PRO1022614
Designed with meticulous attention to detail, the 2023 Toyota Tundra TRD Pro body captures the essence of the full-sized beast with its realistic appearance and exceptional build quality. Every curve, grille, and emblem has been meticulously replicated to create a stunningly authentic replica. From its aggressive stance to its distinctive Toyota TRD Pro badging, this RC body embodies the spirit of Toyota's off-road performance heritage.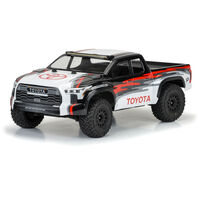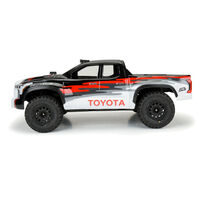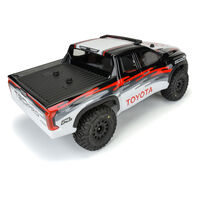 2023 Toyota® Tundra™ TRD Pro Clear Body
for Tenacity™ SCT/TT Pro, Senton™ 4×4, Slash® 2wd and Slash® 4×4 (with extended body mounts)
PRO361400
——————–
First seen on the Limited-Edition Pro-Line 40th Anniversary Axial® SCX10™ III, the 1982 K-10 body is now available in a clear version for you to add your own color or style to!
Even casual automotive enthusiasts instantly recognize the Chevy® K10 pickup. Although its straight-lined appearance earned it the "square body" nickname, the iconic truck was also among the first C/K generations to be optimized by computers and wind tunnels for lower drag and improved fuel economy. The result was a beautiful and rugged classic that you can now drive for yourself. This officially licensed step side body comes with such scale details as a molded grille, front and rear bumpers, brake lights, and two-piece side mirrors. It comes pre-cut for your convenience and includes an extensive decal sheet with Pro-Line side graphics, and window masks.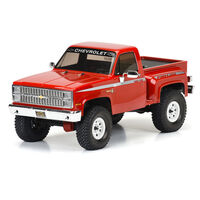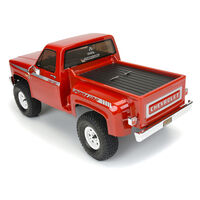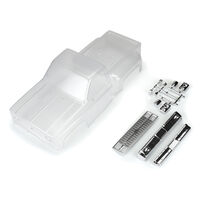 1982 Chevy® K-10 Clear Body Set w/ Scale Molded Accessories
for 12.3″ (313mm) Wheelbase Scale Crawlers
PRO360000
——————–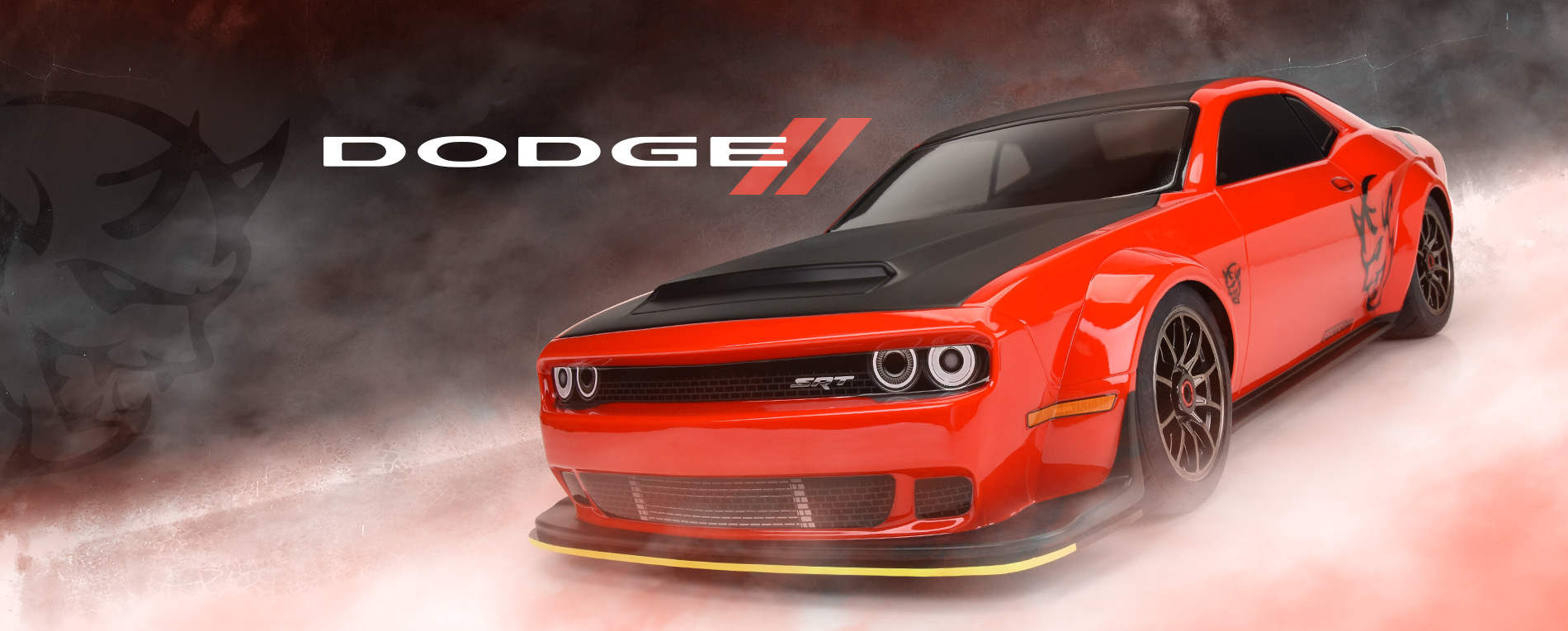 Rev up your excitement as Pro-Line introduces a legendary nameplate to the ARRMA® Infraction™ 6S – the Dodge® Challenger™ SRT Demon. Combining the iconic design of the Dodge® Challenger™ SRT Demon with the exceptional performance of ARRMA®'s Infraction™ 6S, this new RC car body promises an adrenaline-pumping experience like never before.
The Challenger™ SRT Demon was the world's fastest 1/4 mile production car, with a mind-blowing 840 hp. What better styling to bring to the tire-melting Infraction™ 6S? This 1/7 recreation captures the essence of its full-sized counterpart in every detail. From the menacing front grille to the aggressive stance and distinctive SRT Demon badging, the attention to detail is impeccable.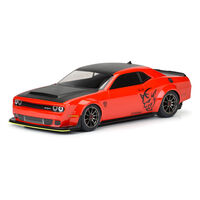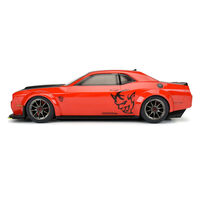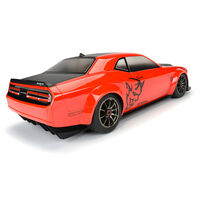 Dodge® Challenger™ SRT Demon
Clear Body for ARRMA® Infraction™ 6S
PRM158600
——————–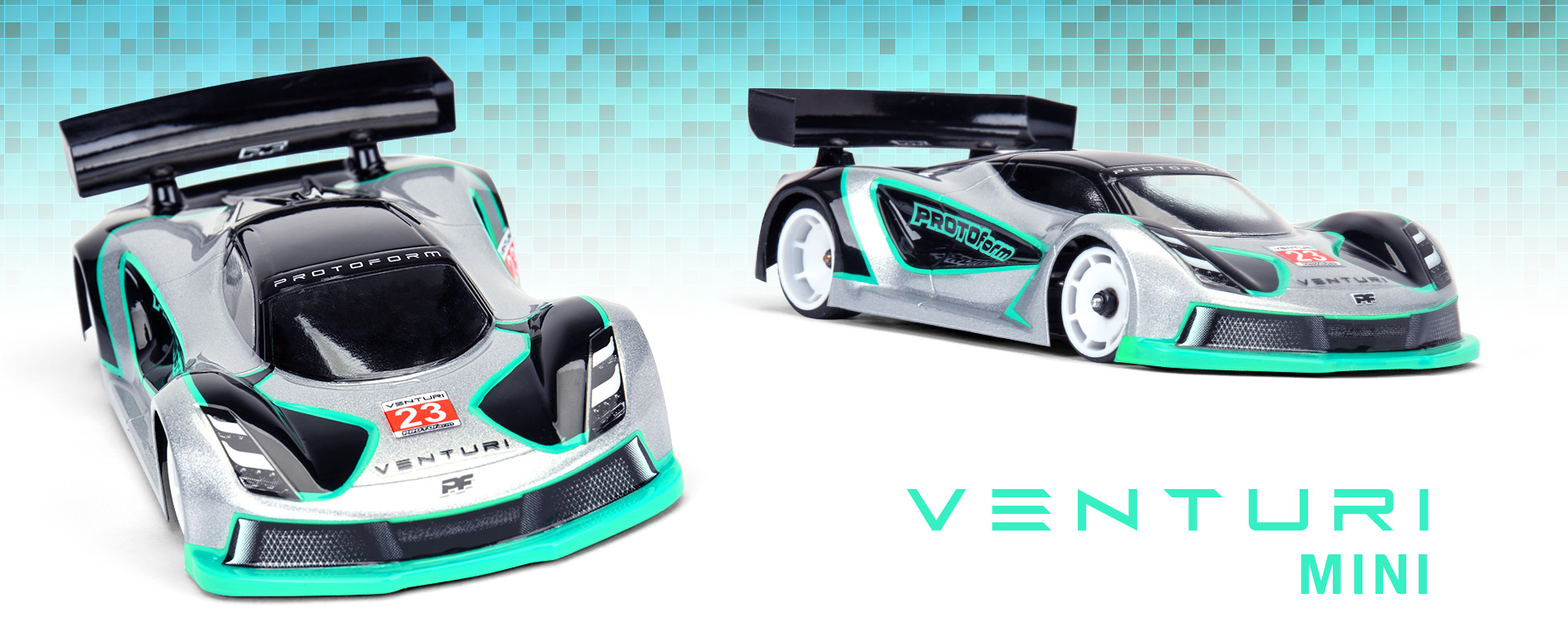 Introducing the PROTOform Venturi GT, now for high-competition 1/28 racing! The Venturi combines scale looks with all-out performance on the track for your Mini-Z or other 1/28 scale 98mm wheelbase on-road car!
Venturi GT takes inspiration from a new wave of hypercars, featuring a low-CG, cab-forward design sure to provide exceptional handling characteristics while also looking stunning on the track. The super low-slung hood and raised wheel arches give the Venturi an aggressive GT-style aesthetic, while the deeply sculpted side panels provide superior side bite and overall body rigidity.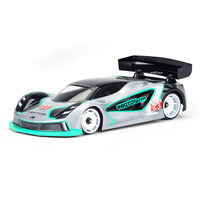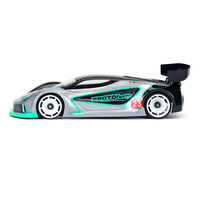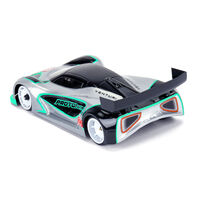 Venturi GT Light Weight
Clear Body for Mini-Z & other 1/28 Chassis (98mm WB)
PRM159320
——————–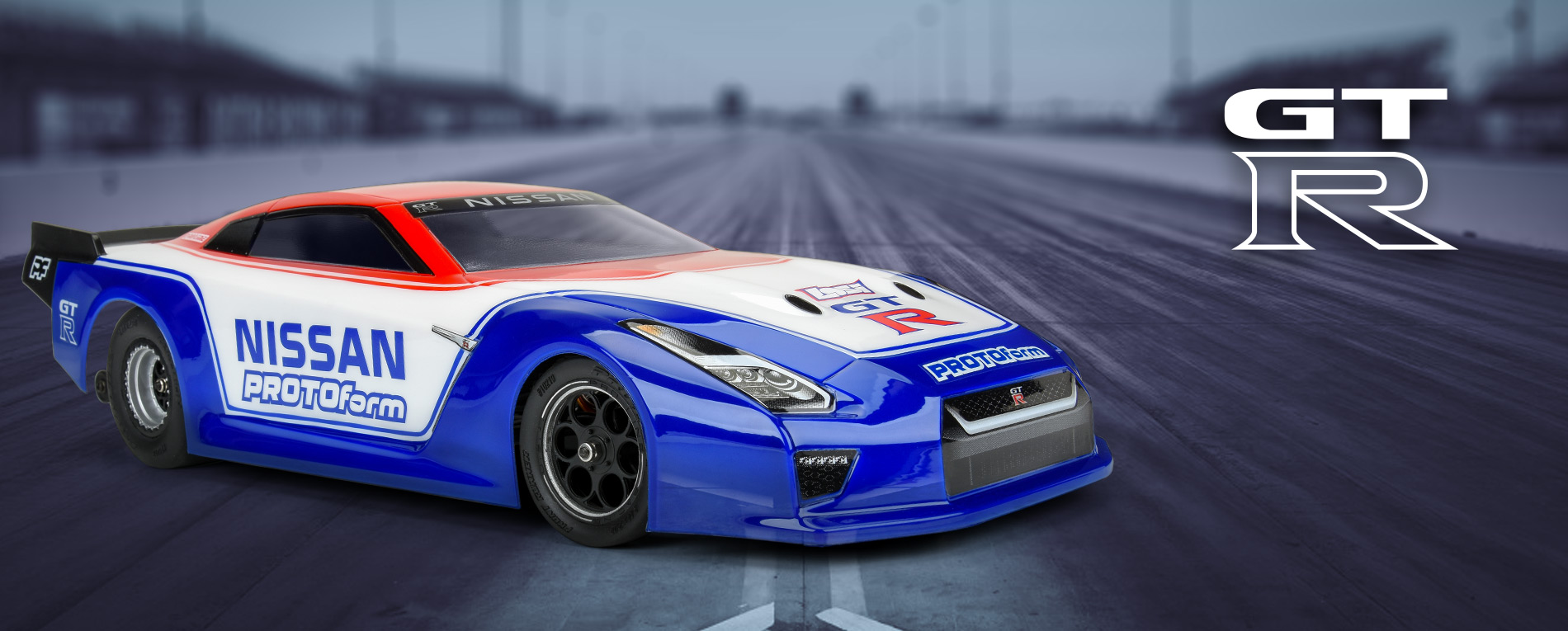 PROTOform is proud to announce our first competition body for the Losi® Mini No Prep Drag car! Our partnership with Nissan® now brings you the car they call "Godzilla" to 1/16 scale: the Nissan® GT-R™ R35 Pro Mod.
The officially licensed body is the ultimate aerodynamic upgrade to your Losi® Mini No Prep Drag Car drag car. We combined the signature wide-mouth grille, side vents, and powerful stance of the R35 GT-R™ with some stretched, pro-mod drag racing proportions to transform your no-prep car into a scale-1/4-mile import beast.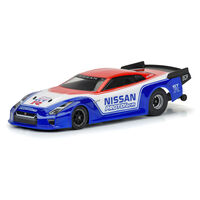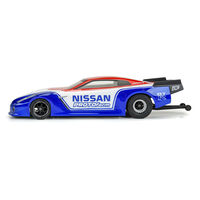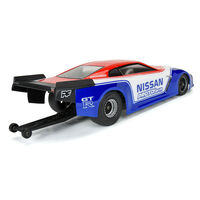 Nissan® GT-R™ R35 Pro Mod
Clear Body for Losi® Mini No Prep Drag Car
PRM159200