Check out this latest issue of the Pro-Line Hole Shot Newsletter – January 2023!
Start off the 2023 NEW YEAR with some awesome new products for Rock Crawlers and Monster Truck with some PROTOform Hot Hatch action to boot!


Start off with something BIG! Introducing the Cliffhanger High-Performance Rock Crawling competition body from Pro-Line that was developed specifically for the SCX6™! Scale competition crawling is a growing part of the overall rock crawling movement and Pro-Line's Cliffhanger body provides everything that these competitors have been asking for. The Cliffhanger features a pinched front end and a dove-tailed rear end for maximum tire clearance while still maintaining a true-to-scale appearance.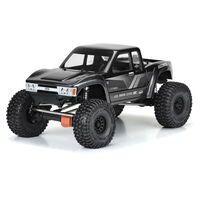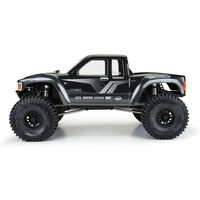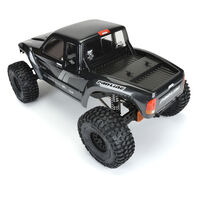 Cliffhanger High Performance Clear Body
for SCX6™ (Requires AXI350001 Body Posts)
#3612-00


Pro-Line Menace tires are 1:1 racing-inspired tread designed to give your 1/8 Monster Truck massive traction on your street, parking lot, or track. The Menace HP tires are BELTED to handle extreme power and high speeds with ease. No tire ballooning here! Transform the handling of your truck with the low-profile carcass, deep grooves, and long-lasting compound, also great for speed runs! These tires and Raid 3.8″ wheels have been developed from the ground up to be lightweight and durable enough to handle extreme bashing with your KRATON™ 6S, KRATON™ 4S, MAXX®, or whatever other 17mm-hex rigs you run, to give you the best all-around bashing experience possible.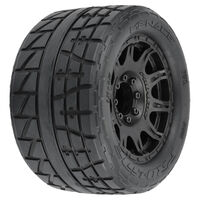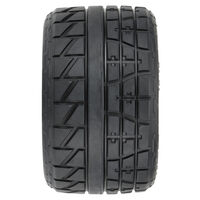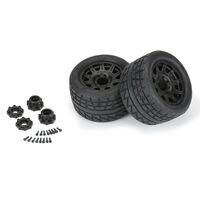 Menace HP 3.8″ Street BELTED Tires Mounted on Raid Black 8×32 Removable Hex Wheels (2)
for 17mm MT Front or Rear
#10206-10
———-


One of the most recognizable body styles of all time is now available for your 12.3″ Rock Crawler! Introducing the classic Volkswagen® Beetle body with all the performance and style you expect from Pro-Line. Designed from the ground up to mimic full-size bugs competing in off-road competitions around the world, the officially licensed features the iconic Bug body shape that is very well suited to rock crawling with ideal approach & departure angles and a rounded roof to prevent "turtling".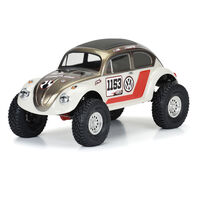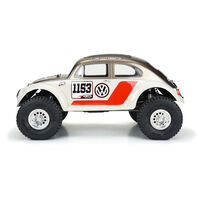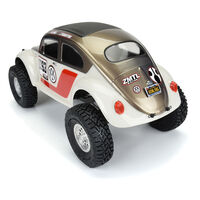 Volkswagen® Beetle Clear Body
for 12.3″ (313mm) Wheelbase Scale Crawlers
#3595-00
———-

The Swamper adds a whole new style to your rig, perfectly combining scale looks with unmatched rock crawling performance. It's made from a super soft compound to help your SCX24™ climb to new heights and the tires are supported with soft foam inserts.
The Super Swamper® 1.0″ tire comes in a set of 4, conveniently pre-mounted to our Mini Holcomb Black Internal Bead-Loc 1.0″ Plastic 7mm Hex wheels! Just like Pro-Line's 1:10 size Holcomb wheels, these mini versions give your 1/24 crawler a unique, retro-inspired look and are super easy to use by only requiring 3 screws per wheel for mounting tires. The unique 3-piece plastic wheel design bolts together in the back and locks onto Pro-Line's 1.0″ Crawling Tires, while also being compatible with many existing 1.0″ tires for the SCX24™. The wheels also feature a +2mm offset for a wider, more stable stance. If you own an SCX24™, then Pro-Line's pre-mounted set of Interco Super Swamper® 1.0″ Tires are a must-have!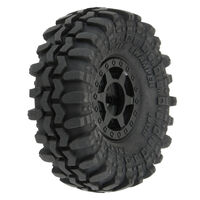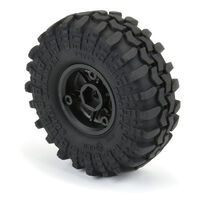 Interco® Super Swamper® TSL SX 1.0″ Tires Mounted on Mini Holcomb Black Internal Bead-Loc 7mm Hex Wheels (4)
for SCX24™ Front or Rear
#10214-10 |
———-


The future of 2.2″ Rock Crawling Tire Performance has arrived with Pro-Line's Hyrax LP Tire! At 5.25″ tall, the Hyrax LP is shorter in stature than the traditional 2.2″ Hyrax, but larger than the 1.9″ Hyrax XL tire. This makes it ideal for Class 3 competition crawling, where you need the greater ground clearance of a 2.2″ tire, but still maintaining great sidewall stability!
Take your Axial® Capra™, Class 3 SCX10™, or Bomber™ to the next level with Pro-Line's Hyrax LP 2.2″ tires!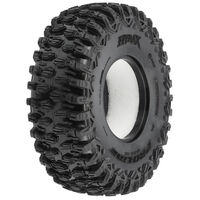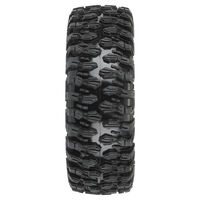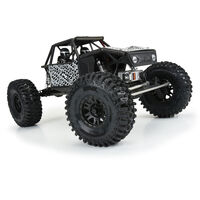 Hyrax LP 2.2″ G8 Rock Terrain Truck Tires (2)
for Front or Rear
#10220-14
———-


Introducing PROTOform's latest aerodynamic solution for high-competition 1/10 Front-Wheel Drive Electric Touring Car Racing, the Speed3. Speed3 takes styling cues from popular Japanese hot hatches competing in full-scale TCR classes around the globe, featuring aggressive fender flares and a slammed hatchback roofline.
The Speed3 also features the easiest mounting of any PROTOform body yet. Returning are PROTOform's signature Mounting Marks inside the front wheel arches, allowing you to choose your body positions in 2mm increments up to +8mm. In addition, are sets of markings on the hood and rear bumper to easily line up your body posts no matter what you prefer.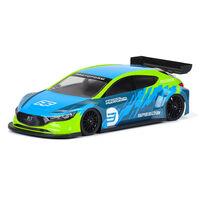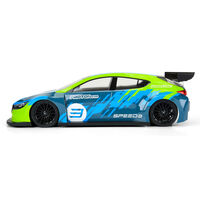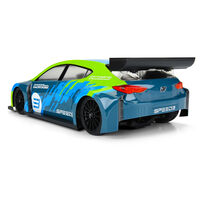 Speed3 Clear Body
for 190mm FWD TC
#1589-25