Check out this latest issue of the Pro-Line Hole Shot Newsletter – November 2022!

This month comes in all different sizes, from the large scale Street Rod '56 Ford & '78 Chevy Crawler bodies to SC Bead-Loc Wheels, 1:24 Tires, and more!
Give your 1:6 scale crawler a super scale, retro-classic look with this fleetside Chevy®, which is one of the hottest nostalgic full-size trucks. The 1978 K-10™ body has been carefully sculpted with realistic details that recreate the lines and squared-off style of this iconic truck.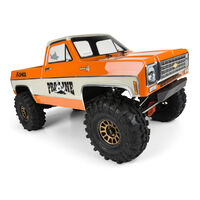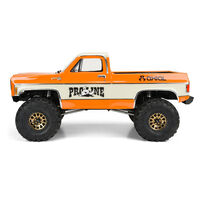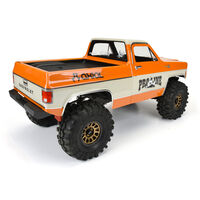 1978 Chevy® K-10™ Clear Body
for SCX6™ (Requires AXI350001 Body Posts)
#3598-00
Pro-Line is excited to bring some retro classic styling to the X-MAXX® for the first time! This old-school Ford F-100 body completely transforms the look of your truck, featuring a custom hot-rod style extended cab, aggressive fender flares, and the iconic old-school chrome grill of the '56 blue oval fan favorite. Pair the F-100 with the Menace 5.7″ Belted Tires (#10205-10) for a true street machine combo!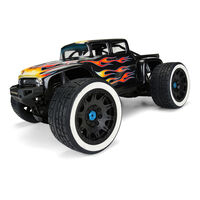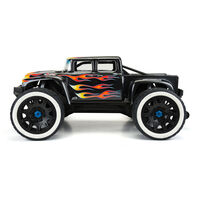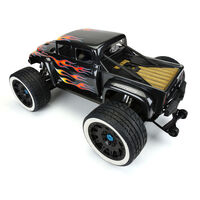 Pre-Cut 1956 Ford® F-100 Clear Body
for X-MAXX®
#3610-17
———-
Pro-Line is proud to announce our first licensed 1.9″ tire from Mickey Thompson Tires, the Baja Pro™ X! The Baja Pro™ X is a competition-proven extreme terrain tire perfect for your 1.9″ rock buggy or crawler.
Coming in at a massive 4.85″ tall x 2″ wide, this is one of the largest 1.9″ tires Pro-Line has ever made! Molded in your choice of our legendary G8 or Predator compounds, all the details of this gnarly tire are captured in perfect 1:10 scale detail: from the Tread Biter™ cleats for added traction to the Mud Scoops for added cleaning power, to the Massive Sidebiters® and angled shoulder scallops for ultimate side grip. Symmetric directional tread pattern provides excellent traction and cleaning power as well.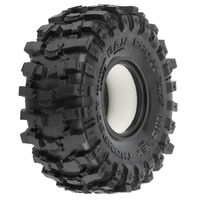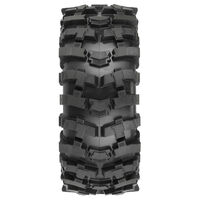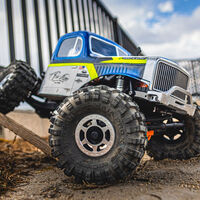 Mickey Thompson Baja Pro™ X 1.9″ Rock Crawling Truck Tires
for Rock Crawlers Front or Rear
#10213-03 Predator (Super Soft)
#10213-14 G8 (Soft)
———-
Short Course fans rejoice! We have combined the best features from our trusty Bead-Loc wheel design with our innovative 6×30 replaceable hex system to create the ultimate SC basher wheel!
Introducing the Raid Bead-Loc SC Wheel, designed for maximum versatility, ease of use, performance, and the off-road styling that PL is renowned for. The tried-and-true 3-piece wheel goes together easy with 6 screws, capturing your SC tire of choice evenly on both sides. Once the tire is mounted up, choose your hex offset from the 4 included options: Slash® Front, Slash® Rear/4×4 Front & Rear, Pro-Trac (0 offset), or 14mm for ARRMA® vehicles. The wheels also accept any of Pro-Line's optional or upgrade aluminum 6×30 hexes, creating tons of custom offset and hex size options.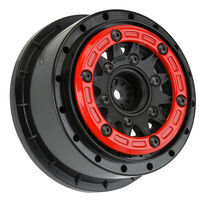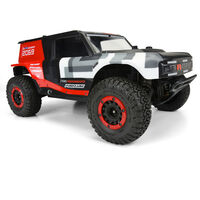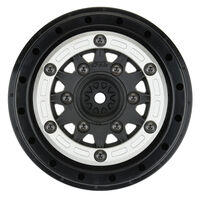 Raid 2.2″/3.0″ Bead-Loc 6×30 Removable Hex (12mm & 14mm) SC Wheels
for Slash® 2wd, Slash® 4×4, ProTrac™ & Senton™ 4×4
#2811-03 Silver/Black
#2811-04 Red/Black
———-
The legendary Bronco has returned with its unmistakable retro-modern styling and unmatched offroad performance, and now you can deck out your MAXX® or E-REVO® 2.0 in scale style. Pro-Line has included all the detail you would expect in the body and sticker sheet, allowing you to completely transform the look of your truck.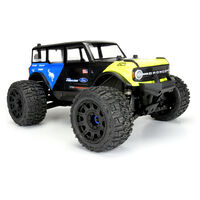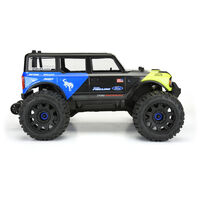 2021 Ford® Bronco Clear Body
for MAXX® and E-REVO® 2.0 (with extended body mounts)
#3594-00
This body requires extended body mounts. Be sure to select the right Pro-Line Extended Body Mount kit to fit the Bronco to your rig!
– MAXX® Extended Body Posts: #6375-00
– E-REVO® Extended Body Posts: #6307-00
———-
The future of SCX24™ Tire Performance has arrived with Pro-Line's pre-mounted Trencher 1.0″ Tires! Just like Pro-Line's 1:10 size Trencher crawler tires, these mini tires are designed to provide maximum grip on whatever terrain your SCX24™ attempts to tackle. The Trencher 1.0″ features an extremely aggressive tread pattern with each tread block containing multiple sipes and multiple levels for incredible tread flex while still looking great on a Scale Rig. The highly detailed connected tread on the sidewall of the Trencher extends out for great side-hilling performance on your mini-crawler. At 2.25″ tall by 0.85″ wide, the Trencher is our largest mini-crawler tire yet! It's made from a super soft compound to help your SCX24™ climb to new heights and the tires are supported with soft foam inserts.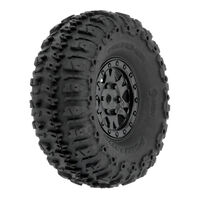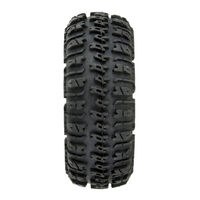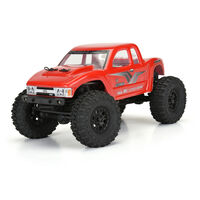 Trencher 1.0″ Tires Mounted on Mini Impulse Black Internal Bead-Loc 7mm Hex Wheels (4 pk)
for SCX24™ Front or Rear
#10209-10