Check out this issue of the Pro-Line Hole Shot Newsletter – April 2022!
Under official license from Interco® Tire Corporation, Pro-Line is proud to announce the gnarliest tire yet for the 1/6 SCX6™ rock crawler: the legendary Super Swamper® TSL SX! With "almost scale" not being acceptable and access to Interco's® design data, Pro-Line's engineering staff has reproduced the original Super Swamper® in a scale configuration matched by none.
10201-14 | the Interco® Super Swamper® TSL SX 2.9″ G8 Rock Terrain Truck Tires for Axial® SCX6™ Front or Rear
Pro-Line is proud to bring the popular Impulse rock crawling wheel styling to the 2.2″ Crawler segment! These black plastic Internal Bead-Loc Wheels are Proudly Made in the USA and are designed to not only look scale but to be super easy to use by only requiring 6 screws per wheel for mounting tires.
2805-03 | Impulse 2.2″ Black Plastic Internal Bead-Loc 12mm Hex Wheels for Crawlers Front or Rear
This is a pair of Hex Shot 1/8 Buggy Tires. Introducing the Hex Shot 1/8 Buggy race tire, a stepped-pin tire designed to tackle loose and loamy tracks. Beefy pins are arranged in rows of hexagon-shaped pods down the center of the tire, while the smaller outer tread is made up of connected chains of pins. The step-pin design helps support the tall pins while your buggy carves through loose dirt, providing excellent forward grip and braking stability.
9073-02 | Hex Shot Off-Road 1:8 Buggy Tires for Front or Rear Wheels – M3 (Soft)
This is a pair of Hole Shot T 2.0 2.2″ tires featuring the latest generation race tire carcass for maximum performance on your Stadium Truck. The legendary mini-pin Hole Shot design provides the optimum level of traction in dusty, hard-packed, and grooved conditions. As always, the Hole Shot T includes open-cell foam and is proudly made in the USA.
8303-02 | Hole Shot T 2.0 2.2″ Off-Road Truck Tires for 1:10 Stadium Truck Front or Rear Wheels – M3 (Soft)
This is a pair of Reaction HP SC 2.2″/3.0″ Ultra Blue Belted Drag Racing Tires. The Reaction HP is now available in the new super soft, ULTRA BLUE compound to provide even more incredible grip from the legendary Pro-Line Reaction tread design. Tested by some of the nation's top No Prep racers, this new compound provides relentless traction off the line and stability at the top end with little to no break-in or conditioning needed: so, you can go faster, faster.
10170-03 | Reaction HP SC 2.2″/3.0″ Ultra Blue Drag Racing Belted Tires for SC Trucks Rear – Ultra Blue(Super Soft)
This is a set of four (4) Billet Adapter Washers for Raid 5.7″ 24mm wheels and other 1/5 Wheel Fitments for the X-MAXX®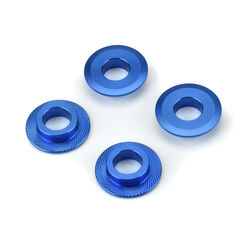 6379-00 | Billet Adapter Washers (Blue) for Raid5.7″ 24mm Wheel and other 1/5 Wheel Fitment on X-MAXX®
X-MAXX® is a registered trademark of Traxxas® L.P.

PROTOform is proud to bring one of the most highly anticipated sports cars of 2022 to the 1:8 Street Bash scene with the PROTOform rendition of the 2023 Nissan® Z™ for Vendetta™ & Infraction™ 570 MEGA. Introducing PROTOform's newest addition to the family, 1:8 ON-ROAD 2023 Nissan® Z™
1583-00 | 1:8 ON-ROAD 2023 Nissan® Z™ Clear Body for ARRMA® Vendetta™ & Infraction™ 570 MEGA (Requires ARA320357 Body Posts)