Axial® engineers have installed steer axles at both ends of this Capra™ for the enhanced maneuverability of 4-wheel steering with realistic scale rock crawler buggy looks and optimized for suspension/ tire clearance.
Want more accessories for your Axial® Capra™ 1.9 4WS Unlimited Trail Buggy? Pro-Line has you covered! Here is a list of items you need to get for your Capra™.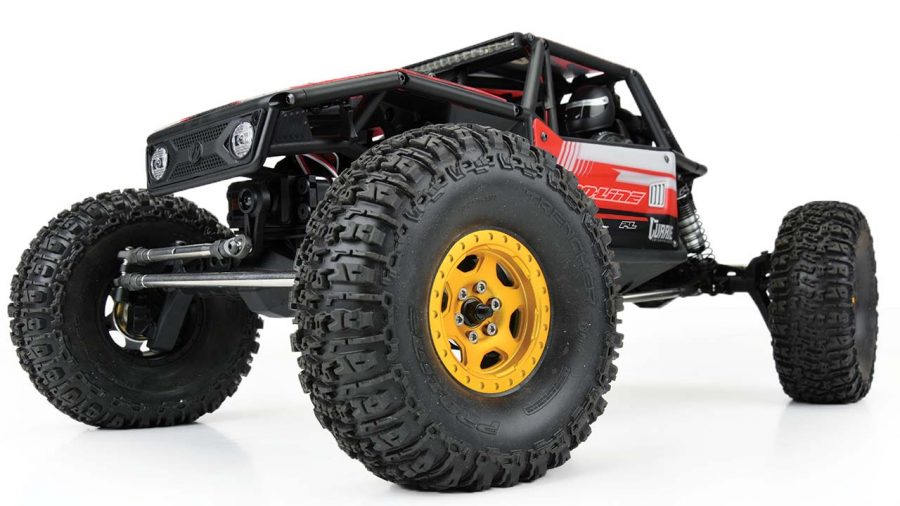 Trencher 1.9″ Rock Crawling Tires
Extremely Aggressive Tread Design for Class 2 Rigs (4.75″ Tall x 1.81″ Wide)
Tread Features Multiple Sipes and Multiple Levels for Incredible Tread Flex
Highly Detailed Connected Side Tread Provides Optimum Side-hilling Performance
#10183-14 Trencher 1.9″ G8 Rock Crawling Tires
#10183-03 Trencher 1.9″ Predator (Super Soft) Rock Crawling Tires
Crestline 1.9″ Machined Aluminum Wheel Faces
These new Crestline wheels are designed to not only look scale with the stepped 6 spoke design, but to be super easy to use by only requiring 6 screws per wheel for mounting tires. The face of the Crestline has been CNC machined to exacting tolerances and precision finishes that are second to none!
# 2791-00 Crestline 1.9″ Aluminum Composite Bead-Loc 12mm Wheels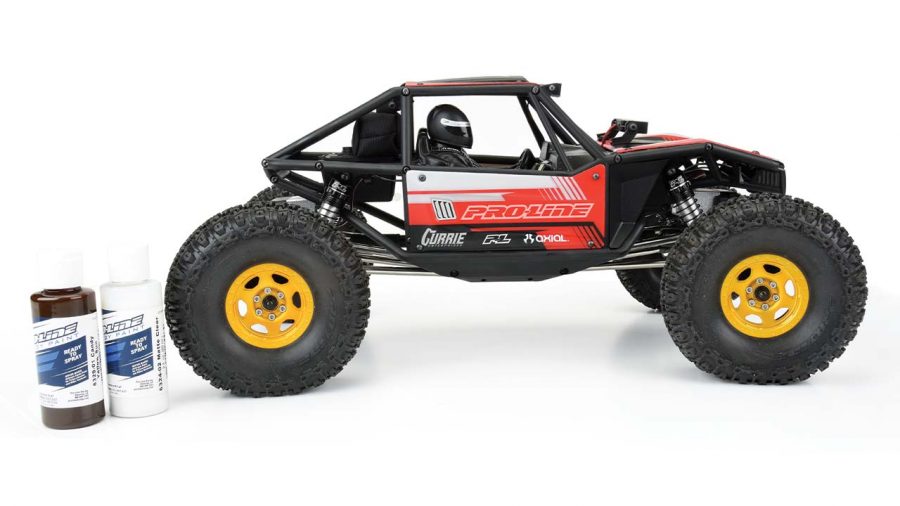 Paint the stock body for a matte finish with #6324-02 Matte Clear
Wheels painted with #6329-01 Candy Yellow Sun airbrush paint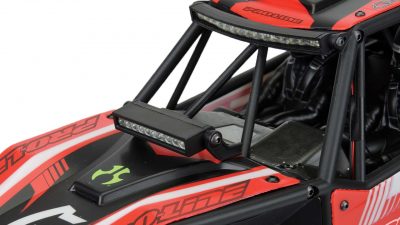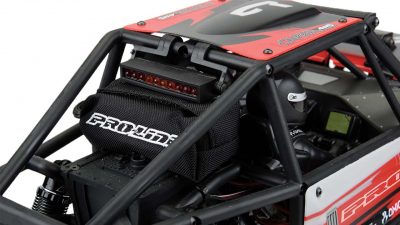 Rear 2″ LED Light Bar lens painted with #6329-00 Candy Blood Red
2″ Super-Bright LED Light Bar
Can plug directly into your receiver plug for easy install
Includes Mounts and Hardware for custom install on your favorite scale vehicle
#6276-00 2″ Super-Bright LED Light Bar Kit used on the Front & Rear
Big Bore Scaler Shocks
The large bore allows the Big Bore Shocks to function as true performance shocks due to the larger oil volume in the shock body.
Big Bore Holds More Oil for Better Performance
Pre-Assembled, Just Fill and Go
Optional +5mm Shock Ends Included
Hard Chrome Coated Shock Shaft
Dual Rate Single Spring Design
#6343-00 Big Bore Scaler Shocks (90mm-95mm) Front or Rear