The 2021 Roar off-road 1/10 Nationals at the Track have came to a end. The event had 91 drivers with 195 entries.
My first roar nationals was at the track so I was excited to go back and try to improve from my last results. This time the track owner (Mimi) put glue on the track so it was high bite compared to 2017 when the track had no additives.

With the glue the tire of choice was S3 Shadows front and rear sanded to a slick. Wednesday was open practice and Thursday was seeding. After the leaving the track on Wednesday I was off pace and knew it was going to be a rough weekend if I didn't get up to speed.
Thursday, I went into seeding feeling better after the 2 minute practice in the morning. I was still off but managed to get a 12th in 2wd and a 13th in 4wd. The second round didn't go any better. I went into qualifying in the b group. Qualifying for me was ups and downs on my part. When I was good I would make a big mistake and make it impossible to make the final. After 4 chances to make the mains I would start 4th in the 4wd mod buggy b main and 2nd in the 2wd c main.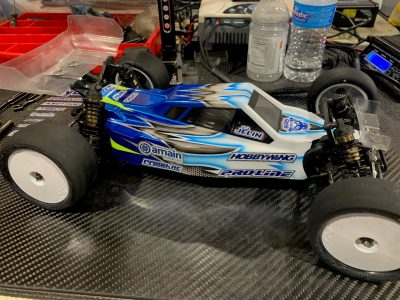 First up was 2wd. On the first lap the leader crashed right in front of me and I had no where to go. From that point on I charged up to second. The last lap I went wide on the straight and went back to 3rd. I tried to make a pass back at a high speed section and went back to 4th.
The 4wd main was better then the 2wd. On the second lap third made a mistake letting me get around. From there on I put pressure on Chase and with 3 laps to go Chase made a mistake letting me get around. At the end I ended up 2nd. Still not the results I'm looking for but have to take the bad with the good.
Thank you to my parents for making this race possible and my sponsors #Amain.com#Proline#Protekrc#Hobbywing#Kyosho#TNRfuels #Avid #WilsonFineDesign #Ogio #Stickit1