This past weekend we headed down to Beachline RC Raceway in Cocoa, FL for the 2020 Florida Carpet Championships. We knew we had our work cut out for us as I haven't raced on carpet since 2017. We arrived at the track Thursday for some practice and started working on getting the cars setup from 5-9pm.
Friday was controlled practice and then one round of seeding, I was only able seed to 5th in 2wd and 6th in 4wd.
Saturday was three rounds of qualifying, and we continued to work on the setup throughout the day as we felt the car could still be better.
First qualifier for 2wd, the times were very close and I was battling for the lead pretty much through the whole qualifier and got into the lead, but on the last lap I rolled over all on my own which dropped me to 4th.
Second qualifier I ran good didn't make any mistakes and was battling for the lead again, on the last lap I got hung up in crashed traffic, which dropped me to 2nd for the round.
Third qualifier we tried some different things, had a bobble on lap 2 would dropped me to 8th and I slowly made my way up to finish 3rd for the round which would put me 2nd overall.
In 4wd first qualifier, started off ok, I was battling for the lead again as the times were extremely close, I had just got into the lead, then coming down the step down my car did something weird, I am not even sure what happened and I broke a rear arm which would have me finishing 14th for the round. Round two, they did a resort after each round so having broke in round one I would be in the B qualifier for round two, the only issue I had was getting into crashed lapped traffic and I would finish 4th for the round. In round three I was back in the A heat, I had a couple bobbles and would end up getting 5th for the round, and give me 5th overall. After qualifying was over they had a super pole for 2nd through 5th in both mod classes, what that means is each of those drivers got 3 practice laps and 3 hot laps, the times of the hot laps would determine where the driver started in the main. In 2wd my first lap wasn't super fast and I crashed on my second lap across the line which gave me a slow 3rd lap as well and my time would put me 5th on the grid. 4wd went a little bit better and I had the 3rd fastest time which would move me up to 4th on the grid.
After qualifying and super pole was done Saturday night we did some more testing and practice to work on the car and try and find some more speed.
On Sunday A1 of 2wd, the start of the main was clean and in the first lap coming around, I was just trying to not hit the guy in front of me and get in the groove, I was not used to going slow through the chicane I ended up hitting the pipe and rolled over. This dropped me way back, I just started putting in clean laps and was able to make my way back up to 3rd before the end of the race.
In A2 car felt awesome again, we started off clean again I focused on not making any mistakes, got to 3rd behind Cavelieri, tried to make the pass and got the worst of it and needed a marshall, got back into the groove and was able to pass him on the 2nd last lap to finish in 2nd.
A3 Broc had already won A1 and A2 to take the overall win so he sat this one out. My car felt amazing like it had in the first two mains and I was able to make my way through the field to take the win which would put me 2nd overall.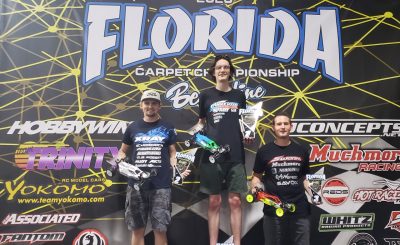 A1 of 4wd we were still trying to get the car easier to drive, tried to get around the track without mistakes. This track was very hard to pass on you basically had to wait for the guys in front of you to make a mistake or crash. I was able to get up to 3rd which is where I would finish.
A2, we made some small changes to the car to try and make it better. I had a couple of crashes and was battling in the back of the field and was only able to finish 6th.
A3, again Broc had already won A1 and A2 to take the overall win so he sat this one out. We made changes to the car and that was the easiest to drive and the best my car felt all weekend, I was able to battle my way to the front to take the win which gave me 3rd overall.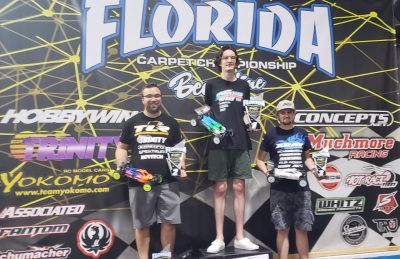 2wd
Congratulations to the other Xray team drivers, Blaine Reynolds 9th in the mod 4wd main, Paul Ciccarello 2nd and Tom Sherman 6th in the 40+ main, Daniel Chavez 3rd and Dustin Fox 4th in the Expert 17.5 buggy main, and Dustin Fox 2nd, Daniel Chavez 4th, Tj Bradley 5th and Blaine Reynolds 6th in the Expert 13.5 4wd main.
Thanks once again to all my sponsors for allowing me to do what I love to do. Xray, RC America, OS, Pro-Line, MKS, VP, EZ Customs, Hobbywing, A Main, Lunsford, Hudy, Protek, Avid RC, Stickit 1, and 110% Racing. Thanks to my Dad, Mom and Sister for all their support and help over the years. I would also like to thank my Lord and Saviour Jesus Christ for blessing me with the opportunity to do what I love, without him I wouldn't be where I am today.