Last week we headed down to El Paso for the US Open Fuel Championships at SCRC. The Showers family has done an amazing job on this facility, they definitely cater to the racers, and their hospitality is top notch.
The layout done by Anthony Westergard of Factory Tracks was very challenging but a lot of fun, it reminded me of how tracks used to be with the very challenging rhythm sections, with multiple lines to get around the track. It was a very nice change to run on a track like this again.
Friday we were given three 5 minute practice sessions for each vehicle we were racing, we worked at getting the cars setup, and did a lot of tire testing throughout practice as well. Later in the evening we had one seeding round and I was able to seed 1st in ebuggy and 2nd in nitro buggy. My cars were amazing with only a few small adjustments needed.
Saturday we would run 3 rounds of qualifying, I was able to tq the first round of both ebuggy and nitro buggy. Round two I finished 2nd in both classes and round 3 I again tq'd ebuggy to take the overall tq, in nitro buggy I had a couple of issues and would finish 5th and would qualify 2nd overall which would have me starting 1st in the even semi on Sunday.
Saturday night we started to prep the ebuggy for the main and finished the ebuggy and nitro buggy on Sunday, we would have a long day ahead of us with the ladder system running in the nitro class, so a 30 minute semi and 60 minute final and a 10 minute ebuggy main.
On Sunday the track was very wet in the morning as they watered after every race and the early races were short. As the races started to get longer the track started to dry out more and more. By the time the ebuggy main came around the track was completely dry with a polished groove. The track was very different from qualifying as there was less grip mixed with stronger winds than we had earlier in the weekend which made for very interesting and difficult conditions to race on. My tires worked very well in these conditions and my car handled the different track surface well and didn't seem to be affected by the wind too much. I was able to take the win in the ebuggy main after battling with Jared for the first little bit.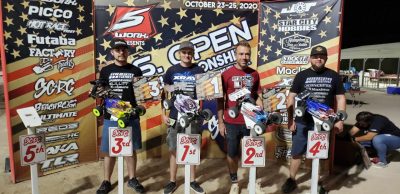 My nitro semi was shortly after, I would run a different compound of tire to test for the final, the tires wasn't as good as what I had ran in ebuggy but I was still able to get around and finished 2nd in the semi even with 2 phantom flameouts on the track, due to this my time would put me starting 5th on the grid for the final.
We knew when the final rolled around it would be dark and once again the track conditions would be different, still dry but with cooler temperatures. We checked over the engine, worked on the clutch and replaced the glow plug to try and fix whatever had caused me to have the flameouts in the semi. I adjusted my tire compound for the conditions as well as my shock oils. The first lap of the main was very hectic as the leader made a mistake and collected the top 5 drivers, I was able to get out in first but within that lap I made a little bobble and would come across the line in 3rd after the first lap. I had a good battle with Ryan before the first pit stop, we had different pit strategies so we would be separated on the track after the pit stop. I suffered another phantom flame out just before the line and lost an entire lap, I would get fired back up but would drop down to 3rd quite a bit back from first, I just started putting in laps until I had another flame out just as I came in to get fuel. I still had fuel in the tank so I am not sure what caused the flame out. I got back out on the track, put my head down and started reeling in some good laps but it would not be enough and I would finish in 3rd.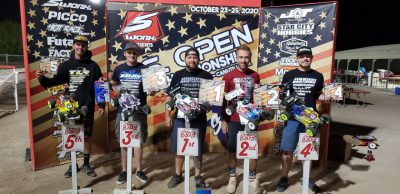 The whole team worked well together and had some good results, special thanks to Daniel Blalock and Spencer Harrison for testing tires for me on main day, thanks to Bailee and Tag for the amazing hospitality and taking care of us all weekend, thanks to Cody Taylor for the table and chairs.
I also want to thank my sponsors, Xray, RC America, OS, Pro-Line, MKS, VP, EZ Customs, Hobbywing, A Main, Lunsford, Hudy, Protek, Avid RC, Stickit 1, and 110% Racing. Thanks to my Dad, Mom and Sister for all their support and help over the years. I would also like to thank my Lord and Saviour Jesus Christ for blessing me with the opportunity to do what I love, without him I wouldn't be where I am today.