2 nights, 3 days, 3 rounds of qualifying, 35 heats in each qualifying round, 37 mains, 194 registered racers, 391 entries, 14,052 laps turned, $21,000 raised for the American Cancer Society, 50,000+ calories consumed, a million laughs… and this wraps up the 2020 East Coast Race Against Cancer.
I'm still recovering from what was one of the most fun race weekends I've had to date.
I decided to run my 2020 XRAY XB8e in 40+ eBuggy and Intermediate eBuggy (more about this decision later).
On Friday I set up my pit area but would have to work much of the day so I only got in 3 or 4 practice sessions.
Through the qualifying rounds the XB8e was extremely easy to drive and I literally did not feel like I had to make any setup changes.
I would go back and forth with my tires. I first tried Pro-Line Racing Hole Shot M4 which were good and I wanted to try to save them for the third round and mains.
In the second round I went with Pro-Line Buck Shots M4 which were a bit more aggressive and less consistent than the Hole Shots.
I'd run my Holeshots in M4 for the 3rd round and mains.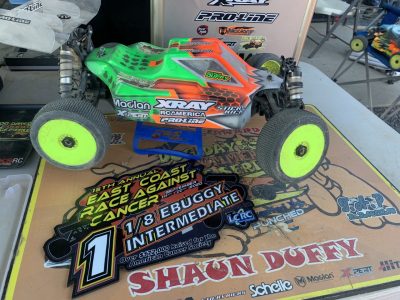 At the end of round two I discovered, thanks to Colin Branch, that the Maclan Racing MMax Pro has a high traction profile and a low traction profile and I've been running the high traction profile this whole time.
I made the change to the low traction profile and it was a night and day difference. The Maclan Racing electronics were even smoother and felt more powerful thanks to the decrease in wheel spin.
At the end of the 3 rounds of qual points style qualifying I would end up sitting 6th of 45 in Intermediate eBuggy and 7th of 30 40+ eBuggy.
One thing I struggled with through qualifying was the wind, and nitro fumes from guys warming up below us, up on the drivers stand causing my eyes to water up to the point where I couldn't see. I tried washing out my eyes, wearing sunglasses, putting up my hood, using eye drops but nothing helped so if anyone has a solution for this I would greatly appreciate it.
The atmosphere off-track was amazing as always. Jamie Groff brought his pellet grill and we ate like Kings. BBQ Chicken, Pork Tenderloin, Brisket, Sausage, Burgers, smoked mac & cheese, baked potatoes, and the list goes on and on.
James Henry brining his fire pit was a clutch move on these cold nights. We'd find ourselves sitting around the fire and talking about our race day, future events, or whatever came to mind til the early hours of the morning. Who would've thought that Jiffy Pop would have been so entertaining. haha
On Sunday my mains weren't up until the end of the day so I spent much of the day cleaning up and helping others out where I could.
I watched a lot of great racing throughout the day to mentally prepare for my race.
First up was the 40+ eBuggy A-main.
On the first turn 3 buggies ahead of me got tangled up and I was able to avoid being collected and would find myself in 4th for a few turns and finally 5th by the time I crossed the line.
At this point I was able to settle in to a rhythm and ready to start putting on a charge to catch the top 4 unfortunately at this point I saw my tire coming unglued.
I would try to hang onto it for a few more laps before pulling off because I needed to save the tires for the Intermediate A-main.
Next up was the Intermediate eBuggy A-main.
Once again the first turn would collect 3 of the buggies ahead of me I would I shoot out to 3rd.
I would swap positions with teammate Bill Davis several times throughout the race before pulling into 2nd and finally on the last lap I would take the lead.
It was a drag race to the finish line with teammate Van Slutz. The tone sounded and the announcer called us as done and I would take the win.
I pulled off the track when the announcer said the computer still shows us as being live. Van Slutz was already still going around the track at this point so I knew there was little I could do catch him.
They decided to look at the video footage and it showed that the final tone sounded before we crossed the line and I crossed first so I was awarded with the win.
What an exciting finish to my first time making the A-mains in 8th scale at LCRC Raceway much of which I can attribute to finally getting some good luck on my side.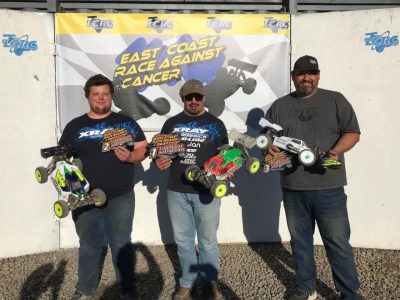 I am extremely happy with my results this weekend. My race equipment was on point and the only thing keeping me from being more competitive now is my skill level.
I'd like to thank the XRAY team for all the help and support throughout the weekend.
I want to Thank Kevin and Christa for inviting us all to invade their home and putting on such a great event.
Hats off to the track crew for all the hard work putting this great layout in and maintaining it throughout the weekend.
It goes without saying that without Scott's dedicated work at East Coast Race Against Cancer we would not have the opportunity to have such a great event. I hope he can continue to carry the torch for many years to come.
My decision to run Intermediate vs Expert eBuggy was not one I made without putting some thought into it.
I'm still fairly new to 8th scale racing and have a lot to learn.
I'm not able to put down the hot laps like many of those that belong in Expert eBuggy and I'm not consistent enough to be competitive with average laps.
I'm not even a dominate force on the club race level yet alone a big race like this.
After consulting with several racers that I respect and I knew would give me the hard honest truth I would swallow my pride and decide to run Intermediate eBuggy for now.
As I reflect back on what this race means to me I cannot help to think about my loved ones we've lost to Cancer.
Most recently my Uncle whom I've looked up to my entire life and my grandma before him.
I feel privileged to be able to do something to help towards finding a cure.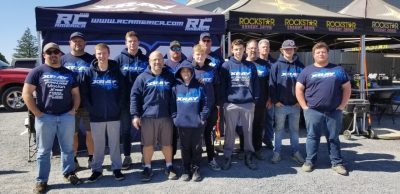 I'd like to thank my sponsors for their continued support; XRAY, RCAmerica, Pro-Line Racing, Maclan Racing, Xpert RC USA, Sticky Kicks RC, and Pit Stop Hobbies.
#xrayrcusa #XRAY #XRAYracing #xrayrc #RCAmerica #RcCar #luxuryrc
#MaclanRacing #MMaxProESC #MRRmotors #GrapheneV3battery
#XpertRC
#stickykicksrc
#PitStop #PitStopHobbies #LitStop