This past weekend we attended the Oil City Dash race in Edmonton, AB. The track was challenging with a rhythm/woops section and a couple carpeted spots, it went from hard packed to broken surface, which made it very challenging to find your lines and maneuver the track successfully as it was pretty bumpy right from the start.
Friday was open practice starting at noon, the day was beautiful with the temperature being 24 degrees celsius. They watered the track periodically on Friday so I tried to get on the track when it was wet and when it was dry to make sure my car was setup for both conditions. My choice of tires for qualifying would be M3 buckshot for truggy and M3 blockade for buggy. We went to the hotel confident for qualifying on Saturday and looking forward to some great racing.
Saturday morning was quite cool about 12 degrees celsius so for the first qualifier I built a 2nd set of shocks for both vehicles with lighter oil, as it turned out the lighter oil wasn't needed in buggy and my car wasn't quite perfect for the first qualifier but I ended up taking the TQ in nitro buggy for the round anyway. In truck however the lighter oil was definitely better and I was also able to TQ the first round of truck. Round two of qualifying we switched the shocks back to our original sets and I felt my car was really good and handled the bumps, jumps and the challenging parts of the track extremely well. I went on to TQ the second round of qualifying in both classes. Now that I had TQ wrapped up I decided to try another tire option on both buggy and truggy and found that even though my pace was about the same I felt that my original tire choice was still the best.
Sunday morning would bring much cooler temperatures and a very strong wind which made the morning very uncomfortable. Watching the lower mains I could see that the track was taking it's toll on cars, it was becoming more broken up and blown out, the strong wind not only was blowing dust around but it made the big air, high jumps of this challenging track even more difficult. Without an A main warm up the first time we would hit the track would be about 2pm. Up first for me was the 30 minute truggy main, in the warm up my XT8 was handling very well, for my truck the wind didn't seem to be as big of a problem as it seemed to be for other trucks on the track. My buckshot tires cut through the dust but the track was quite edgy so I had to adjust my driving and lines to accommodate. I led the race from start to finish without any issues.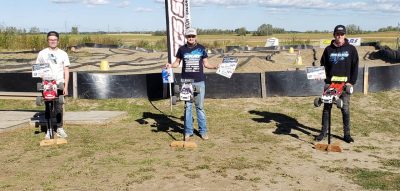 Heading into the minute buggy main I would've liked to have made some changes to my buggy but after marshalling the heat after truggy I only had 10 minutes before the buggy main so I ran my car the way it was from qualifying. My car felt pretty good in the warm up but was a bit edgy feeling, and I adjusted my driving for this. My buggy also jumped well in the wind and I didn't have to fight it for the whole race like it seemed other drivers had to in previous heats. I was able to build a lead pretty early, as there was a lot of crashing in the rest of the field with the difficult conditions and without any issues I went on to win the 30 minute main. This win gave me the overall series championship in nitro buggy.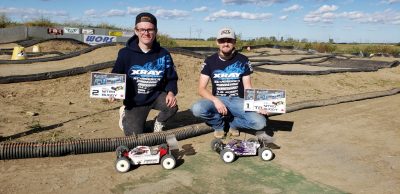 Thank you to the RCRE club for the hospitality and a good race.
I want to thank my sponsors, Xray and RC America for such awesome cars to drive, OS for engines that run flawlessly, MKS for servos that no matter the track conditions they never let me down, Pro-Line for tires that give me the grip I need, VP for the fuel that gives me the power and mileage that I need, EZ Customs for the awesome paint, it seems everyone now wants one of my bodies for their collections. Hobbywing, A Main, Lunsford, Hudy, Protek, Avid RC, Stickit 1, and 110% Racing for the other great products that I race with. Thanks to my Dad, Mom and Sister for all their support and help over the years. I would also like to thank my Lord and Saviour Jesus Christ for blessing me with the opportunity to do what I love, without him I wouldn't be where I am today.