We just returned from the Quebec Classic at Bego RC Raceway in Napierville, QC Canada. We flew in Thursday, Tony Sousa picked us up at the airport and we went straight to the track, arriving mid day, there was already a lot of activity and the track had been run on a fair bit already. The surface looked very similar to what it did last time we were at this race 2 years ago, with the track being treated with linseed oil, which helps the track hold up very well with medium to high bite and almost no tire wear. This treatment also keeps the track very consistent throughout the day.
Thursday was open practice which gave us a chance to get our cars setup, I ran nitro buggy and e buggy, we had to make some adjustments from what we started with, and my cars felt really good and I was confident for Friday's seeding rounds and the first round of qualifying. After practice Thursday night we held another Q & A session, open to anyone that wanted to attend, this session was very well received, thanks to all who attended.
Friday was 2 rounds of seeding and 1 round of qualifying. Throughout the day we made small adjustments on the cars to get the most out of them that we could. For the seeding rounds we also tried a few different tire compounds and treads to optimize the cars performance for qualifying. We worked with all the Xray drivers to get everyone's cars on point. I top seeded both rounds in both classes and took the TQ in both classes in the first round of qualifying as well.
Saturday would be rounds 2 and 3 of qualifying, the grip went up slightly so we adjusted setups but didn't have to change a lot, and my whole race package worked awesome the all day. Again the day went very well and I was able to take the tq in both rounds in both classes. We stayed at the track Saturday night and rebuilt our cars for the mains on Sunday.
Sunday it was scheduled to be triple A mains for ebuggy and a 45 minute main for nitro buggy but with the threat of rain they decided to run double A mains and a 30 minute nitro main, as well as shortening up the rest of the program. Up first for me was A1 for ebuggy, and I chose the S3 Invader tire which had been working awesome for me, it was very smooth to drive and it glided over the sharp edges on the track and gave me all the grip I needed, everything worked like clockwork and I was able to lead the race tone to tone. The second place driver made a big mistake early on lap one which allowed my Xray team mate Mark Sousa to make a great pass to move into second place and Xray would take 1st and 2nd in A1.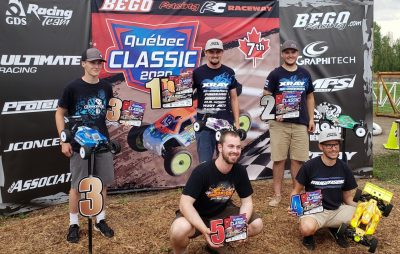 Up next for me was the 30 minute nitro main, again I ran the Pro-Line S3 Invader, which held up great throughout the 30 minutes, Mark and I would put a gap on the rest of the field very early on, we kept a really good pace together for the first part of the race. I was then able to pull away slightly with Mark in 2nd place holding onto a solid lead over third. My OS Ty2 engine was amazing as usual and provided me with all the power I needed for this demanding track. Xray again would finish 1st and 2nd. Immediately after the nitro main was A2 of ebuggy, with the rain clouds moving in, we started the race and again early on 2nd qualifier Sam Langer would make a mistake allowing Mark to get past him and move into 2nd place, and once again Xray would take 1st and 2nd giving myself and Mark the top 2 positions on the podium for the overall.
This track always has a very demanding layout with big jumps and very fast rhythmn sections, sometimes giving drivers issues with their equipment such as speed controls and cars breaking, but my MKS servos, Hobbywing electronics and Xray cars held up to this track like a champ. I didn't experience any issues with any of my equipment throughout the weekend, I am so blessed to be able to be running such top notch equipment to do what I love to do.
After the mains were over we had one request to drive my car as he was interested in making a switch and very quickly a line formed with many of the drivers from the race wanting to take a few laps. In the end about 10 drivers tried my car for a few laps each, with each one having good words to say with how the car handled and how the engine performed.
As we all know along with keeping our cars fueled, we have to keep our bodies fueled and hydrated as well and Natalie Sousa and Bego RC Raceway did just that for my Dad and I, Natalie providing us awesome breakfasts and lunches and Bego RC Raceway feeding us amazing dinners in the evening all weekend, it was very much appreciated, and we can't thank you enough, it is great to feel so welcomed.
The race participants and track crew made us feel very welcome and the hospitality was second to none. It is a race that I would highly recommend putting on your bucket list.
I also want to thank my little buddy Logan for the help in the pits this weekend, it was great hanging out with you again.
Thanks to my sponsors for allowing me to do what I love to do and giving me the best products to do it with. Xray, RC America, Pro-Line, O.S Engines, Hobbywing, MKS, A Main Hobbies, HUDY, VP fuels, Protek Rc, EZ Customs, Stickit1, Lunsford, Avid rc and 110% Racing. Thanks to my family for all their support, help and the sacrifices they have made throughout my career and most importantly I would like to thank my Lord and Saviour Jesus Christ, without him I would not be where I am.