This weekend I was able to race the Nitro Stampede Race at RC Gears in Calgary, AB.
This race is only about 3 hours from home so it was a nice change of pace to not have to travel so far. We arrived at the track Friday afternoon for practice, I would be running 2wd buggy and 1/8 nitro at this race. At first the track was really loamy and loose but as practice went on it started to clean off a bit but still had some bumps and ruts. We figured out what tires to run and tuned the car setup a bit and we were ready for qualifying on Saturday.
After practice Friday night my Dad and I held a Question and Answer session, the reception by the Calgary club was very good and welcoming, we had a lot of people out with some very good questions.
Saturday qualifying started, the track was watered, and I was up fairly early in both classes so the track was still tacky. As the day went on it dried out and grooved up again. I was able to TQ all 3 rounds of qualifying in both classes, it was a nice relaxed day. Throughout qualifying we made small changes and tried some different tires, to figure out what we would run in the mains. We had a good showing by Xray and the team worked well together with good results in qualifying throughout the classes.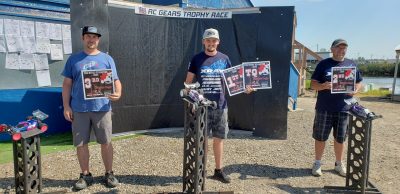 Saturday night the clouds rolled in and it ended up raining a bit but the track held up well.
Sunday morning for the mains the track was damp from the rain the night before. I would run the first two A mains for 2wd before my nitro main. The 2wd mains couldn't have gone better and I was able to win both to take the overall for that class. Up next for me would the nitro buggy main which was 30 minutes long. Again the main went very well almost without incident and I was able to lead tone to tone to take the win.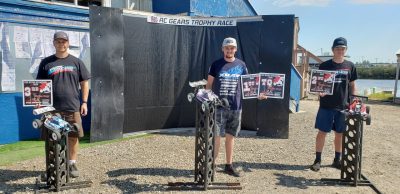 Thanks to the RC Gears club for holding a great event. Thanks to the whole Calgary Xray team for the hospitality and support with tent and table.
I want to thank my sponsors for allowing me to do what I love to do and giving me the best products to do it with Xray, RC America, Pro-Line, O.S Engines, Hobbywing, MKS, A Main Hobbies, HUDY, VP fuels, Protek Rc, EZ Customs, Stickit1, Lunsford, Avid rc and 110% Racing. Thanks to my family for all their support, help and the sacrifices they have made throughout my career and most importantly I would like to thank by Lord and Saviour Jesus Christ, without him I would not be where I am.