This past weekend we were able to get out to a race called the Summer Classic at Kamloops, BC hosted by the TVRCR Club.
It was a medium sized track, this would be the first time in a long time that I would run 1/10 and 1/8 at the same race. The track was really awesome since it worked for both classes, the layout was pretty straight forward while it was smooth, but from past races we were told the track would get rough, as the race went on, and the track would become more challenging. I ran nitro buggy and 1/10 4wd buggy as my 2 classes, Friday was open practice and with never more than 1 or 2 people in line waiting for practice it made for a very enjoyable day. We worked with the team and by the end of the day all the Xray cars were looking very fast. On the smooth track during practice my XB4 was on the same pace as my XB8, my cars felt really good and I was excited for qualifying. Friday night after practice we held a Q & A, had lots of great questions and conversation with many of the drivers during the 2.5 hour session, it was a great way to end the day.
Saturday was qualifying with 3 rounds throughout the day. The track would get slightly rougher throughout the day and my cars were working very well and I was able to TQ all 3 rounds in both classes.
Sunday was main day and the day couldn't have gone better. The track crew made some repairs to the track so for the first mains the track was a bit smoother than it was at the end of qualifying but would soon develop some bumps again, which my cars handled with no problems. The triple A 4wd mains were 6 minutes, and the nitro buggy main was 30 minutes, the mains went off without a hitch, my cars handled perfectly and I was able to win the first 2 A mains in 4wd for the overall win and also win the nitro buggy main.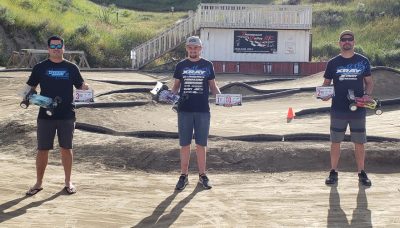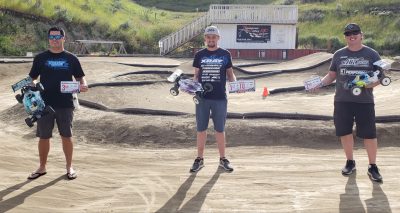 I would like to thank the TVRCRC club for the great race and the hospitality, it was a really fun weekend and it was great to be back racing. Thanks again to Clayton Campbell for giving his spot up so I could race.
I want to thank my sponsors for allowing me to do what I love to do and giving me the best products to do it with Xray, RC America, Pro-Line, O.S Engines, Hobbywing, MKS, A Main Hobbies, HUDY, VP fuels, Protek Rc, EZ Customs, Stickit1, Lunsford, Avid rc and 110% Racing. Thanks to my family for all their support, help and the sacrifices they have made throughout my career and most importantly I would like to thank my Lord and Saviour Jesus Christ, without him I would not be where I am.