40+ Ebuggy
Qualifying went decent but never really turned in a really good complete heat, but still managed to qualify in the A-main.In the main I got tangled up with a wreck that happened right in front of me and finished the first lap in 15th place, basically dead last. I kept my cool after the first lap and logged some really consistent laps and was able to work my way up to a respectable 7th place finish. My car was really dialed and the Hole Shots were great in the groove and in the fluff that had been created as the track was ran without water and blow off for most of the mains.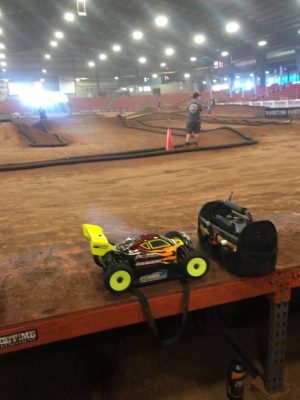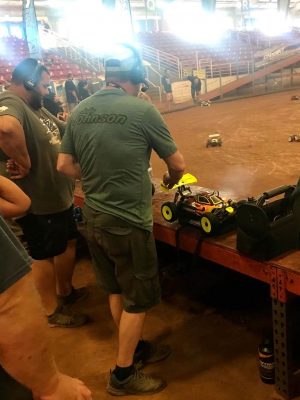 40+ Nitro Buggy
Never really had a solid qualifying run over the three rounds mainly due to engine issues that were still causing issues. With some in depth tuning in the pits I was able to get a tune down that would allow me to drive my race. I was able to run solid laps and ended up in a very tight 3-way battle for 2nd place. I swapped back and forth with the 3rd place buggy and we were able to catch up with the second place buggy. At that point it was anyone's race to grab the bump in 2nd position. On the last lap I had an opportunity to make a pass and took a turn too wide and got collected by the pipe which pulled me off the track where I could not see my buggy. It was a lot of fun and with a little luck I could have bumped to the A-main.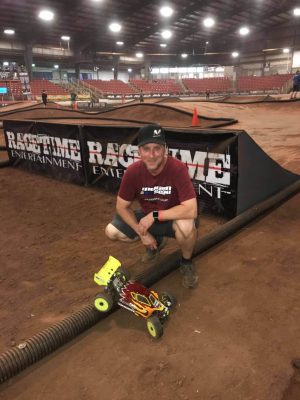 Open Nitro Truggy
This is a very competitive class with a lot of fast drivers. My truggy performed well but I just could not get in the type of runs I needed to move up in the class. I will keep working to improve!!I ran the Pro-Line War Hawk body for my Mugen MBXT with a new self painted body. It looks fantastic! I ran Pro-Line Hole Shots for the weekend. Still hoping for a Truggy Slide Lock version soon.