Event: Missouri Offroad Carpet Championships
Classes Ran: Mod 4wd Buggy & Mod 2wd Buggy
Tires used : 2wd –Prism M3 fronts, Prism v2 M3 Rears
4wd-Prism V2 m3 fronts, Prism V2 M3 Rears
Write up:
This last weekend I attended the PCRC Missouri Carpet Offroad Championships in Bolivar Missouri.
With a huge record setting crowd of over 200+ entries, and some of the best drivers from Arkansas, Oklahoma, Kansas, Iowa, and Michigan it would make a long, long day of racing that would finish up over 22 hours later with my mains happening all after 3am in the morning.
I would compete in Mod 2wd & Mod 4wd buggy classes.
In Mod 4wd qualifiers my Associated B74 on Pro-Line Prism tires was on rails and I was able to set TQ in this class by a full lap over the rest of the field and start in the #1 spot for the Amain feature race. And I would also be the only one in the entire event to break the sub 17 second lap with my 4wd.
In the Mod 4wd feature I would get out quick and break away from the rest of the field and after the 7 minute main I would win by a full 12 seconds over the next car, finishing in 1st place.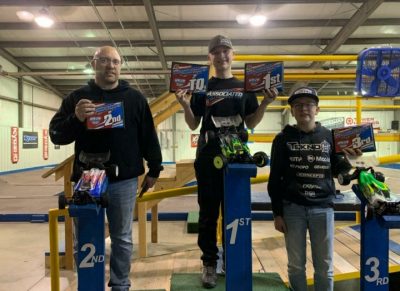 In Mod 2wd buggy qualifiers my Associated B6.2 on Pro-Line tires was working great, but was just off TQ pace by 2 seconds, so I would start in the #2 spot for the Amain feature race.
In the Amain feature which started around 4am in morning, I would break out and battle with another driver for first half of the race, but then with a couple mistakes from the other driver I would start to pull away and at the end of the 7 minute race I would win by a full lap over the rest of the field.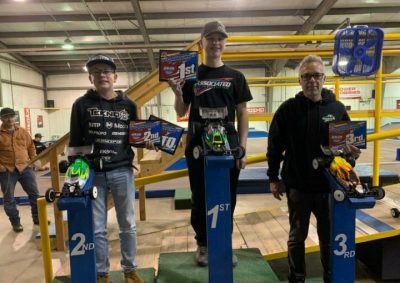 I would like to thank PCRC raceway for an awesome event. Also all my great sponsors Associated, Reedy, Pro-Line Racing and JRCA for all they do to help keep me on top.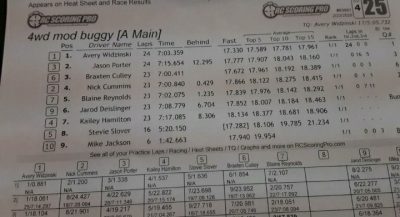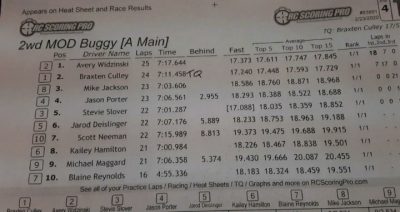 #WeAreAE #ProlineRacing #Reedy #JRCA