Yesterday was race #8 and final race of Nwa winter points series. Going into final race in 2wd buggy mod I had a close battle with xray team driver that if he tq'd and won we would have to have a race off ending with same exact points and places so I knew I had to get the job done to not have that play out.
In mod buggy qualifiers my Associated B6.1 on Pro-Line tires was working awesome but through 2 qualifiers I was sitting in 2nd place behind xray team driver. In 3rd and last qualifier both him and myself got great starts both 1 lap up on tq pace for entire race and in last lap I would turn corner gun for the line and take tq by .030 of a second, securing my 1st place by a mear. 030 of a second and start tq in the main event.
In 2wd main, I would get out quick , run a good race but take 2nd place at race end.
In 4wd, my Associated B74 on Pro-Line tires was working awesome, but with tight points battle in 2wd class an me already having points class in this class wrapped up I wanted to concentrate fully on 2wd class so I did not run the first qualifiers, but ran the last qualifier and main. I was able to qualify 2nd for the amain on 2 week old tires and in the main take 2nd place at race end.
Overall at 8 week series end i would win both Mod 2wd class by a mear 2 points , and I would also win my Mod 4wd buggy class.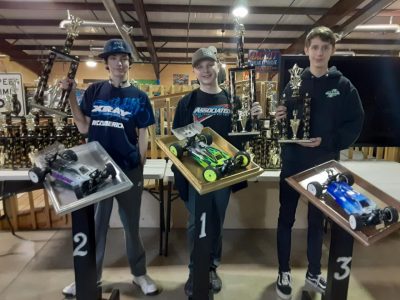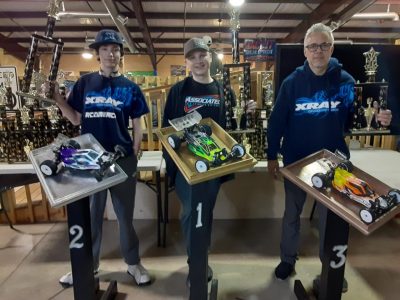 Thank you to Nwa Raceway for an awesome place to call my home track and for putting on the best series in the Midwest, blaine Reynolds for the great competition weekly. Also thanks to my dad and pit man for always being there and funding my rc future.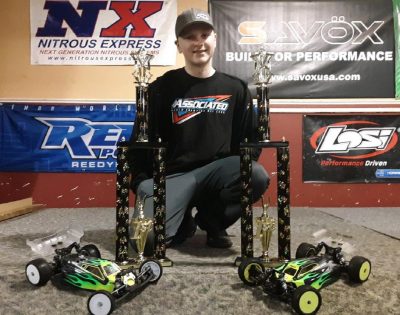 Thank you to all my sponsors for all they do to help me stay on top, Team Associated, Reedy, Pro-Line Racing and Jrca airbrushing.
#WeAreAe #Reedy #ProlineRacing #JRCA
– Aaron Widzinski