This past weekend we attended the final race of the 2019 J Concepts INS series at Beach RC in Myrtle Beach, SC. Thursday was open practice from noon until 8pm, the layout was very challenging with a very big triple for 1/10 scale, I was excited to race on this track as it looked like a lot of fun. We also used this day to prep tires for qualifying and the mains and learned the layout while the track was breaking in. This would be our second race on clay track with our new cars.
Friday was practice from 10am until 5pm at which time they did 1 round of seeding for qualifying, I was able to seed 3rd in 2wd and 4th in 4wd.
Saturday we would run 3 qualifiers, for the last round in each class we got the setups on the cars really good and I was able to TQ 2wd and get 2nd in 4wd for that round which gave me 3rd overall in 2wd and 4th overall in 4wd.
Sunday we would run triple A mains for both mod classes, I knew it would be a tough race starting where I was with some of the fastest drivers in the world in front of me, but I also knew the challenging layout would work to my advantage and I knew my cars had the pace to be competitive.
In 2wd A1 I was following Maifield and he went wide on one corner and I got by, then I jumped too long over the double and he landed wide and turned under me and I landed on top of him. I ended up getting the worst end of this, it was an unfortunate racing incident but I needed a marshall and this would put me back a ways and I would end up getting 4th for A1.
In 4wd A1 Dustin Evans and Spencer Rivkin in front of me would make mistakes which allowed me to get up to second, but Maifield had already gotten too big of a lead, I was able to close the gap but not close enough to challenge for the win and I would finish 2nd for A1.
A2 of 2wd I was able to make the pass on 2nd place early in the race and close the gap and was right behind Spencer and was pushing hard and made a mistake and had to settle for 2nd for A2.
A2 of 4wd I was able to make my way to the front with the top 3 making mistakes and would take the win for A2.
A3 2wd I tried to pressure Maifield as much as I could and he would end up making a mistake on the triple on lap 3 and I would take the lead and hold onto it to take the win, giving me 2nd overall in 2wd.
With a win and a 2nd each for Maifield and myself with the advantage going to Maifield on laps and times I knew I had to win A3 to take the overall win, but if anyone else would win A3 Maifield would take 1st overall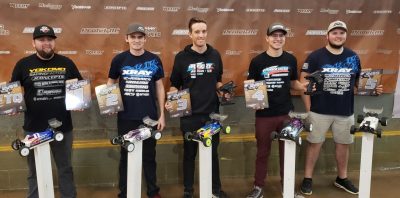 A3 of 4wd I passed Dustin pretty early on and a couple of laps later Spencer crashed and collected me and put me into the infield but I was still able to stay in second. It took a little while to get my tires cleaned off and get back in the groove and make up time on Maifield. Maifield would make a mistake which allowed me to get right up on his bumper again, we would swap the lead back and forth a couple of times but I would take the lead on the last lap, on the 2nd last corner, Maifield jumped into me, spun me around but waited for me, unfortunately this gave Dustin time to get by and take the win and I would finish 2nd in this main which would give me 2nd overall in 4wd.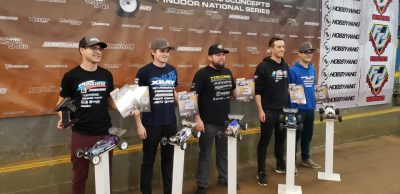 Thanks to my family for always supporting me, and thanks to my sponsors, Xray, RC America, Pro-Line, O.S Engines, Hobbywing, MKS, HUDY, VP fuels, Amain, Protek Rc, Lunsford, Avid rc, 110%, Darkside design, Stickit1. Most importantly I want to thank my Lord and Savior Jesus Christ, with out him I wouldn't be where I am today.