Buggland USA 2019 has come to an end. For Buggyland being in the US for the first time and announced not to long back it had 167 entries and 92 drivers.
The Buggyland race began in Madrid,Spain in 2014 ever since the race has been getting bigger. Miguelo Rodrigeuz and Joey Christensen came together to make the first ever Buggyland USA. I raced open electric buggy, open nitro truggy, and open nitro buggy. I ran M3 Buckshots all weekend on my MP10 and MP9E, in truggy I ran s4 Hole Shots on the MP10T.
The event was 3 days with Friday open practice, Saturday 3 rounds of qualifying, and Sunday mains. Through the qualifies my cars were getting better with some setup changes as the track was getting bumpy. I had some rough qualifiers in ebuggy and was starting 10th in the main.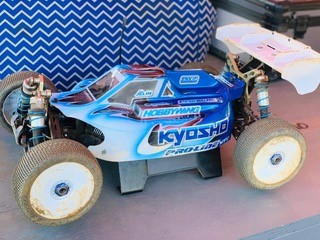 In truggy I tqed the 1st and 3rd round to take the overall. In nitro buggy I had a 3rd in the first round and a 5th for round 2, I was overall 4th at that point. For the last round of qualifying I went to the 1.5 purple springs and lighter shock fluid to adjust to the temperature outside. I had a perfect qualifier to get a 3rd and was starting 2nd in the 45 minute main.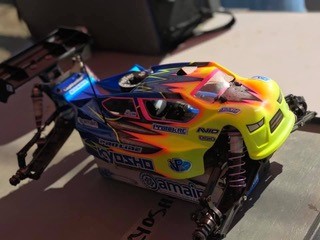 The e buggy amain was 10 minutes and the first race of the day for me. In warm up my car was feeling really good but at the start a driver and I hit that broke my wing. I drove the best that I could to finish 8th after the ten minutes.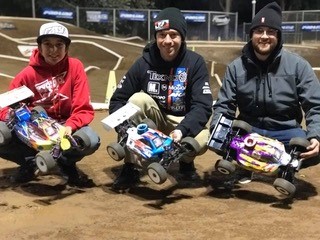 In truggy there was only 5 trucks so the race was 20 minutes instead of 30. Within the first couple of laps I had two flameouts due to a low idle. I drove the next 15 minutes 100% but I ended up half of a lap from 3rd. The last race of the day was the open nitro buggy a main. The start of the race was a little crazy. I had went a little wide to avoid a hole and the guy behind me had taken my line and I went back to 4th. Then that same guy had crashed, this put me in 3rd a couple of seconds away from 1st and 2nd. A couple of laps later I caught up to 1st and 2nd. I followed for a couple of laps when I made a mistake. The mistake let 1st and 2nd get away and let the rest of the pack get a little closer. Then the leader of the pack crashed and caused a pile up that let me get a gap between them and me. I drove the rest of the race smart and that lead me to finish 3rd.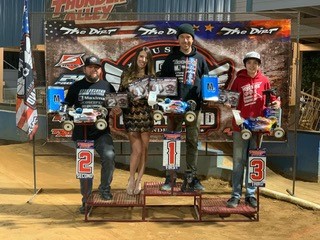 Thank you to Kevin Palmer, Derek Furutani, Futoshi Ishihara, and Jake Archibald for all your help this weekend. Can't wait for the next race!!!!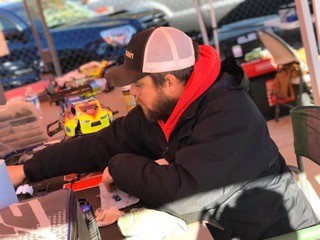 #Kyosho #Customworksrc #Proline #Amain.com #Protekrc #Hobbywing#VpRacing #Sanwa #Avid #WilsonFineDesign #Ogio #Stickit1 #Hooked