This past weekend I attended the AE Offroad Championships at Trackside Hobbies and Raceway in Brookfield, WI. We had heard a lot of good things about this race and this track and we were excited to attend for the first time. The layout had been in for 2 weeks so the track was somewhat broke in and was in really good shape, smooth and consistent. The facility was awesome with great hospitality, and the program ran very smoothly.
Wednesday and Thursday were both open practice days from 11-8, we had a small team attending this race but we worked hard together to dial in our XB2'20 and XB4'20 kits, and we headed into qualifying confident in our cars and setups.
Friday was two rounds of qualifying and I was able to tq the first round of both mod 2wd and mod 4wd. In Q2 I took the tq in 2wd and 2nd in 4wd.
Saturday was another two rounds of qualifying, in Q3 I took TQ in 2wd to wrap up overall TQ and 2nd again in 4wd. Q4 we tried something different setup suff on the 2wd that didn't end up working, in 4wd we tried soething to get a little more speed which also didn't go the right direction. I would end up 2nd on the grid for 4wd.
Saturday night there was open practice and we did some more testing and made some more setup progress on both cars.
The mains on Sunday went fairly well, 4wd A main was up first, I made it to the front on the first lap and would take the win. 2WD A1 I was able to extend my lead to a coupld of seconds and keep it there the whole race to take the win. A2 of 4wd was a bit messy, I came in contact with the leader when he made a mistake and I got shuffled back to 4th and had to make my way back up and back into the lead briefly and had a very chaotic last lap and would end up 2nd half a second behind 1st place. 2WD A2 I just tried to do the same thing as A1 and drive my race and not make mistakes and I was able to keep a comfortable gap to take the win and the overall championship.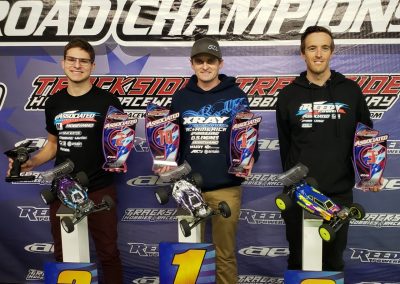 4WD A3, I should probably have used a fresher set of tires, as the ones I ran were to worn and were unstable, and I was only able to finish 3rd which would give me 2nd overall in 4wd.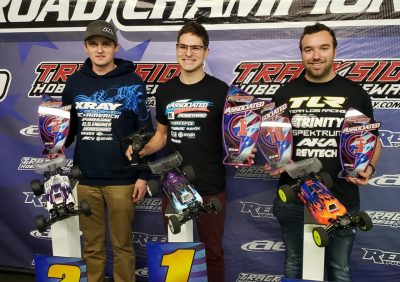 Congratulations to Paul Ciccarello for taking the win in 13.5 4wd.
I want to thank my sponsors for giving me the opportunity to race with the best products, Xray, RC America, Pro-Line, OS Engines, Hobbywing, MKS, VP Fuel, A Main Hobbies, Protek RC, Hudy, Lunsford, Avid, StickIt 1, Darkside Designs, OCRC, 110% Racing.
Thanks to my Dad, Mom and Sister for always being there for me and supporting me, and most importantly I want to thank my my Lord and Saviour Jesus Christ, I wouldn't be where I am without him.