Event: NWA R/C Raceway Big Buggy Cash Bash
Class: 2wd Buggy Mod
Tires Used: Pro-Line Prism V2 M3 compound Rear, Pro-Line Prism M3 compound fronts
Yesterday was Nwa Raceways Big Buggy Cash Bash big Race giving away $500 in cash in both Mod 2wd buggy and 17.5 2wd buggy classes. I would compete in a stacked class of 2wd mod buggy drivers.
In qualifiers my Associated B6.1 on Pro-Line tires was working awesome, but a couple to many bobbles in qualifiers would put me in the #3 spot for the amain feature race.
In the amain feature race I would get a great start and me and kyosho team driver Braxton Culley would battle bumper to bumper for the majority of the entire race for the lead. But with a couple small mistakes by him I would take the lead and stretch my lead over the last 2 minutes of the race and win by 4.5 seconds at race end and take home $250 cash for 1st place.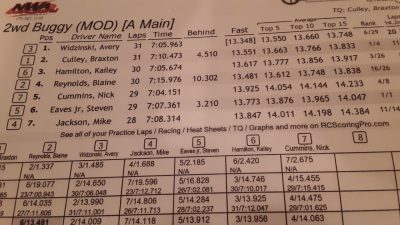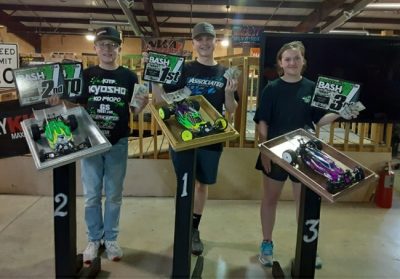 Its was a great race, loved getting pushed to drive my best by some of the best drivers in this tri-state area.
Thanks to my home track Nwa R/C Raceway for putting on an awesome event.
And a big thank you to my awesome sponsors Team Associated, Reedy, Pro-Line Racing and Jrca Airbrushing for all they do to help keep me on top.
#WeAreAe #Reedy #ProlineRacing #JRCA