I had a pretty good time at the RCGP at Thunder Alley this past weekend. It was very nice to meet Keenan White and all the other friendly RCGP guys who were down at the event.
In the first round of qualifying I managed to take the first round TQ from a consistent run. The next 2 qualifiers I was still in the top 10, but mistakes kept happening one after another during my races. Going into my Semi Qualifier I was 3rd overall, but with the gate starts that we began to do, it didn't really matter. After a rough start going to dead last by the first lap, I charged as hard as I could for the remaining 5 minutes and some how ended up all the way to 4th by the end of the race, starting me second in my Semi Final. The start in my Semi Final was a different story keeping up front and was leading within the first lap. For the most part I was in first for a large majority of the race having some battles with Colin Herzig and Jermaine Robinson. I'd say at the 10 minute mark was when I broke away from the nearest car, which lead to a convincing win in my Semi Final. I was pretty confident going into the Main Event that I could podium and or win, but the race went almost the complete opposite. With a bad start again on the gate starts I was very far back in the field by the first couple laps and was in the back of the pack for almost the whole time I was in the race, before breaking my car on a pole that the crew put on a certain jump so people wouldn't cut the corner. I didn't hit the pole one time the entire event and to go from 2nd to last to breaking out dead last was pretty disappointing, but that's racing i guess.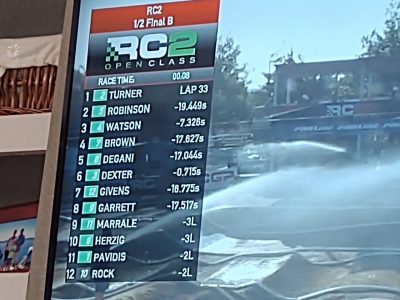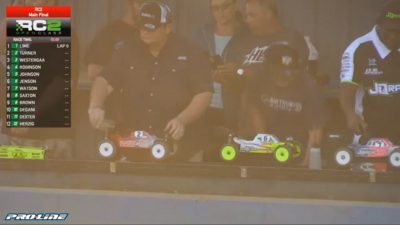 Thank you to all my sponsors for the continued support and for the massive amounts of help I receive every event.
Place Finished: 12th (DNF)
Tires: S3 Buckshots (Spec Tire)
– Kyle Turner