The 2019 ROAR 1/10 offroad electric nationals are in the books, this year they were held at EN Hobbies in Columbus, OH. The track started out loose and the grip continued to come up throughout the event. They would flood the track each night to ensure that it would hold up throughout the entire event without cracking, so every morning the track would have lower grip and the grip would increase throughout the day.
We arrived Wednesday for the first practice day and the team worked hard to develop a setup for our cars, Thursday was another day of practice with 2 seeding rounds which counted your fastest 3 consecutive laps to seed you into your qualifier, I was able to seed 6th in 4wd mod and 2wd mod and 4th in mod truck.
Friday was the 1st day of qualifying, and again the team continued to work together to try and find the best setup for our cars. I ended up qualifying 3rd in mod 4wd, 2nd in mod 2wd and took the TQ in mod truck.
Going into the mains I knew it would be very difficult to win from anywhere but the very front as the driving line was very narrow and the track layout made it very difficult to make a pass unless someone made a big mistake.
Sunday was main day and we started with the 1st round of A mains, I was able to take the win in 2wd, 4wd and truck. In A2 I finished with a 2nd in truck and 2wd and a 3rd in 4wd.
In A3 for 2wd buggy, I knew I had a chance to take the overall win and I knew the worst I could finish overall was 2nd, so I followed as close as I could to try and force a mistake from the leader. In doing this I made a couple mistakes that caused me to fall back but I would catch back up until I made a big mistake that put me back to 4th where I would finish the main and that would give me 2nd overall.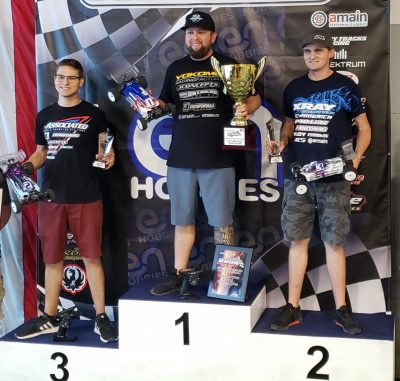 Before A3 in truck I made a small change to my truck to give me a little more steering, and in the warmup my truck felt amazing, I knew I had to win the last main to take the overall. I knew if I just drove clean laps and kept tight lines, passing would be almost impossible, I was able to do this and take the win to finish 1st overall.
In 4wd A3, winning from 3rd on this track would be very difficult. The race started and I immediately started to put pressure on 2nd place who eventually made a mistake and I was able to get by, but by that time the leader already had a pretty good gap and it would take me a bit to catch him, and I would get close but because I was pushing so hard I would make a mistake which knocked me back to 3rd. I was able to get by at the end of the straight to take over 2nd place but I didn't have enough time to catch back up again, and would have to settle for 2nd which would give me 2nd overall.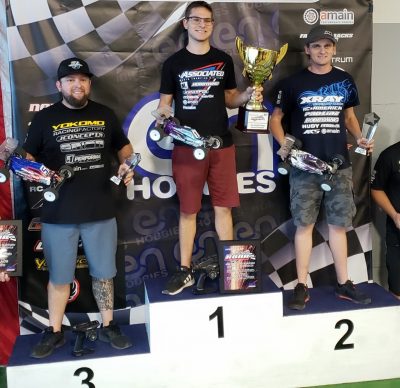 On Sunday my cars were really good, unfortunately we didn't find the setup early enough to qualify better, I think all 3 cars were good enough to win, but sometimes it just doesn't work out that way.
Congratulations to the winners of all the classes, this was a very challenging event.
Thanks to my family for always supporting me, and thanks to my sponsors, Xray, RC America, Pro-Line, O.S Engines, Hobbywing, MKS, HUDY, VP fuels, Amain, Protek Rc, Lunsford, Avid RC, 110%, Darkside design, Stickit1 and most importantly I want to thank my Lord and Savior Jesus Christ, with out him I wouldn't be where I am today.