The 2019 roar nats have come and gone. This race has been a really big learning experience and has made me more confident going into any race that I go into.
The race started on Wednesday and it was open practice. Looking at the track from online it looked to be an easy track and really flat. When I arrived the track had lots of elevation change and looked hard to drive. I went out first with my 2wd and the track was easy to drive but hard to go fast every lap. I finished the first day of practice feeling ready for seeding on Thursday. The first round of seeding was a 5-minute run and the second run was 6 minutes like the four rounds of qualifiers on Friday and Saturday. Both rounds of seeding were a struggle for me. I couldn't put three good laps in 2wd mod buggy and truck.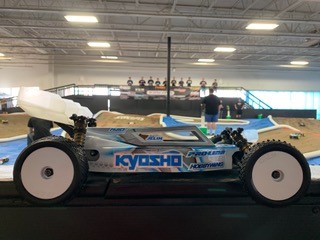 I was in a low heat in 2wd, the b heat for truck, and 4wd I seeded 8th. With qualifying, if I had one mistake I went from a top 5 to a top 20 run. This made me really think about everything that I did. The first round of qualifying I didn't do good in 2wd, I picked it up for the rest of the round with a 12th in mod truck. Then in 4wd I wasn't as fast as the top guys but was really consistent and on the last couple of laps a couple of the guys crashed and that lead me to get a 3rd overall. In the second round, I was on a top 5 for 2wd and I had two wrecks that put me to get in the top 20. In truck I had a transponder problem. 4wd I made it 2 laps then I had a failure. For round three of qualifying, I had my stuff figured out or at least I thought. I went out for 2wd feeling good about my car from the 2-minute practice. I started out a little slow, but I didn't want to rush it and crash. I had picked up the pace and was in 3rd in my heat and looking like I was going to get a top ten to start the day. Then I had a driver that was on a bad run ruin my run and this put me in the top 25.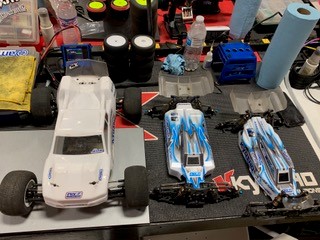 In truck I broke a couple laps in. The 4wd run was such a good run, I was in 5th with three laps to go when a wheel fell off. With everything that happened in the previous rounds, I had a lot of pressure on myself to make the mains. The very first lap of 2wd a driver in front of me had made a mistake and I was going to go around him when he went right into my line and I had the bad end of it. I tried my hardest but couldn't come back from that. In truck I had struggled myself and finished poorly because of it. I knew that the only a main that I had a chance of making would be the 4wd. My goal was to get a top ten. I had one rollover and one time getting stuck in the pipe on my own. With this, I was .100 away from making the main and it was a 4-way tie on points to make the main. I ended up 6th in the b main for mod truck, 4th in the c main for 2wd mod buggy, and 1st in the b main for 4wd. The b main for 4wd buggy was cut short. I made it a couple of laps and then a was forced to pull it off. In 2wd I had made a setup change that wasn't as good and I wasn't able to adjust to it and finished 10th. The truck b main I had a good race, there was a pileup and I was going to the inside. I was going through this gap and a truck hits me and I get put into the pipe. I drove really hard to finish 4th. Not the results I was looking for but I can learn from mistakes and go even harder at the next event. Thank you to the Kyosho team for the help and keeping the pits fun. A big thank you to Kevin Palmer for helping me all weekend. Next up is Surf City this weekend.
#Kyosho #Proline #Amain.com #Protekrc #Hobbywing #VpRacing #Sanwa #Avid #WilsonFineDesign #Ogio #Stickit1 #Hooked