Round 5 of the JBRL is over. The weekend started on Thursday when Kevin and I drove 9 hours down to Kyosho America to get some parts for the weekend.
We then went to OcRc to drive some 1/10 before nationals. Then we went to Wild West Rc for the JBRL race. I raced all three classes. Friday was open practice, I went out first with my truggy because the track had lots of dust and I was just learning the tricky layout. The track was tricky due to it being loose and bumpy but made it really fun to drive. I ran S3 Hole Shots on truggy and S3 Slide Lock on buggy. For setup I went up on shock fluid in buggy for the 105 temperature outside and went up on my rear link to let my car roll over the bumps better. I went in qualifying feeling good. The first round of nitro buggy I had a really bad first lap but cleaned it up to tq the first round. Then in the second round Adam Drake has beat my time .2 of a second and on the first couple of laps I had flat landed and flamed out. I was starting 2nd in the expert buggy a main. In e-buggy I struggled on one jump section both rounds of qualifying and this qualified me 4th in the amain. In the first round of truggy qualifying I had crashed to many times and broke my truck. For round 2 I had fixed my mistakes to tq the second round and the overall.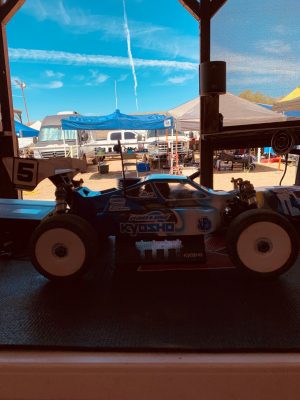 The expert nitro buggy amain was a big disappointment for me. I knew I had the speed to win but I had a big crash that sent me really far back. I was making my way back up to the front when a tire came unglued making me retire early. The next main was e-buggy, with what happens in nitro buggy still in my head I went back really fast, but then but the past in the past to finish 3rd on the last lap.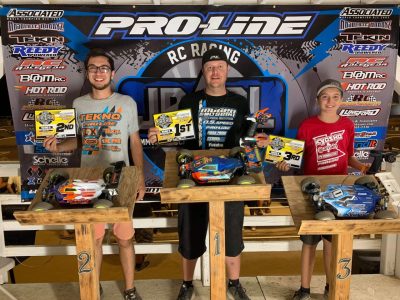 Last race of the night was open truggy. I was able to get a 2 second lead early but had a couple of mistake that let Adam get in front of me. Then it was Adam Drake, me and Anthony Westergaard all battling for the lead on the first two laps, I quickly passed Adam and drove my own race to take the win.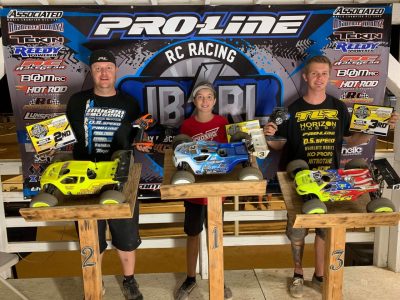 Thank you to Kevin Palmer for taking down there so I could race. As well my sponsors Kyosho, Pro-line, Amain.com,Protekrc,Hobbywing, VpRacing,Sanwa,Avid,WilsonFineDesign,Ogio,Stickit1,Hooked. Next race will be the 1/10 Nationals at En Hobbies in Columbus, Ohio!!!