July 27th was the 3rd round of the Maritime RC Offroad Series in Waasis NB (near Fredericton). We arrived at the track on Friday night, and setup our pit spot and our camping tent right beside the track. It was a good occasion to wrench a little bit on our cars to get them ready for the race.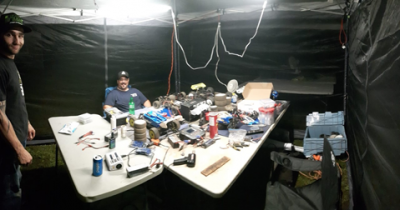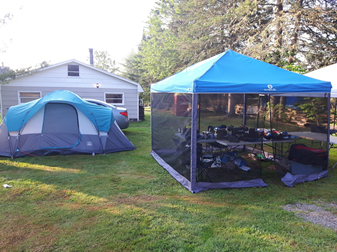 I raced 2wd buggy, 1/8 eBuggy and 1/8 eTruggy. We had a beautiful sunny day, but it was hot! Pretty sure it reached 36 degrees (celcius) and i felt like 40. Thankfully, the track is called "Shady pines" there was in fact some shade!!!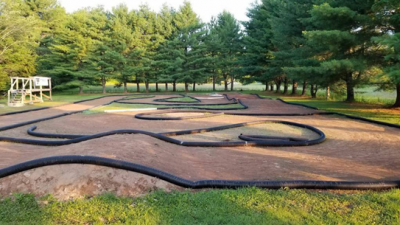 No one really knew what to expect on this new track, built by Mark Baird, a few weeks before the event. The track is well built and lots of fun to race. It doesn't have big jumps, instead it makes us focus on precise driving.
In 2wd buggy, there was enough of us for 3 heats. I manages to qualify into the B main and I would finish in 2nd place.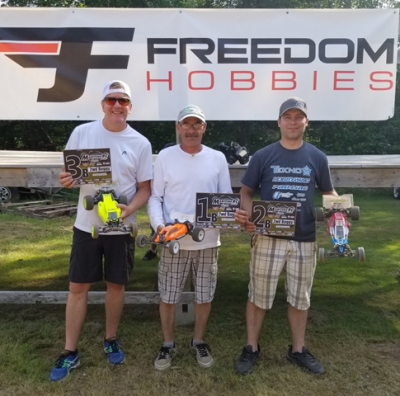 My main focus was into 8th scale.
In 1/8 Buggy, i knew the competition would be tough, there were really good racers. And David Jean did his usual thing and dominated the field. I started in 2nd and had a good start, matching David's pace but then made a mistake and wasn't able to keep up with him. Later on in the race, I had a good battle with René Leblanc. I finished where I started, 2nd.
In 1/8 Truggy, again really good competition, with Guillaume Bérubé and René Leblanc. We had to deal with some traffic that could have stopped our battle between me and René, as we kept closing the gap between us and Guillaume. 7 minutes wasnt enough for me to catch the lead. I happily took 2nd.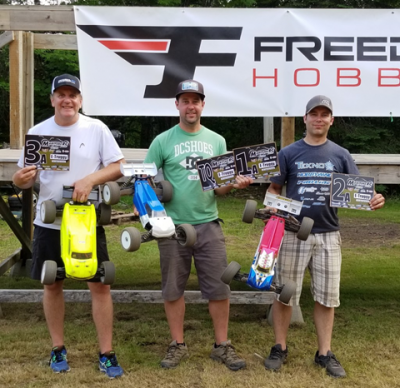 My tire of choice for this race was Pro-Line Racing Hole Shot in M3.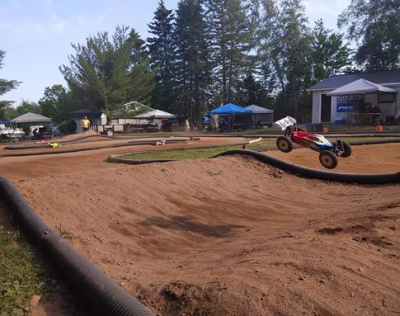 Thank you very much for the support!