Race report 6-30-19
2019 SoCalU4RC Summer Series Round3 at Apple Valley U4RC Raceway. 39 Entries and a little overcast, temp high 80's low 90's and windy.
Great day of racing with some family and friends. I brought out my cousin and his wife to race with me so I had help setting up the pits. I was super excited to get to racing the cars I brought. I put some work on the UCFAB PRTHD, focused on shock setup with a slight thicker shock oil in the rear of the car. I removed bump stops from front shocks. The UCFAB FIS/RIS Red Dragon got some cage work and fresh bearings and the rear CNC hub on left out back in from an episode from round 2.
The TeknoRC DB48 was just used in a MT48 build This past week so it just got put back together the night before race day.
Track looked great, Gerald Tobin always takes great care and is sure to have a little change or new rock formation we have to work with. This track is always lose because of all the little pebbles and them pesky pebbles love to eat spurs and bind up the steering in some cars. Track has 10' wide lanes but being it's so technical if feels 1/2 that with all the turns and dips. It's a great mix of rock obstacle and gardens with several elevation changes and off camber turns. The the straightaways we have have jumps or mogul style dips everywhere so nothing is flat for the most part. Traction is key here and not getting hung up on the big rocks. Hope them pebbles stay clear from the gear.
We decided to do a land rush start like a motocross gate. So it was all about the drag race for the first turn. You would pull trigger and the gravel and dirt would fly. Across the wide field over a berm into the tracks lanes and under the gate. Sounds easy, but not everyone's cars track straight and you driving coming at you, this is always fun. Punch it and pray the car shoots perfectly and clears the field of cars. It was great fun ya.
Heat 1 for me was 2.2 Trophy. We did not have enough to run split classes, Solid and FIS so we mixed the 2. I decided to run the PRTHD.
Car felt really good. I had the suspension setup just right I was able to get over the rocks clean and had chassis set right so not to tip in the turns. My Pro-Line Hyrax tires are just now broken in just right so I did not get to much side bite in the turns. Took first for heat 1 and noticed the front drive shaft was missing. I was shocked how well it ran because I run an open rear diff. That's not bad.
Next heat was Heat 1 for 2.2 Unlimited. This was going to be tuff. Everyone is fast in this class and also aggressive so the Land Rush Start was going to be a challenging 7 cars wide with everyone drag racing for that 10' window under the gate for the first S turn into a small rock section. Heat1 went well I got tied up in the rocks and had to start from 7th and work my way up to the leader. I just stayed on my pace and in my lane that was working each lap trying not to make any mistakes. Managed 2nd just at the end with a lap time of 53.1.
Now it was time to try and find the drive shaft I lost but with no luck Heat 2 was coming for 2.2 Trophy so I took out the Red Dragon. This car feels like the Unlimited but heavy so I felt things would be fine. As always the dragon was breathing fire and took the win with very little problems.
Heat 2 2.2 Unlimited was better then Heat 1, I had a much better start and was able to continue the same attitude of driving, no matter the pressure don't get rattled and stay focused. There were a few times I would get hung up on a rock but the race went well I held position for most the race.
Thanks to fellow MKS Team Driver Joe Zuniga for having a MIP rebuild kit I was able to get the PRTHD fixed just in time for
my cousin's wife Stefany found my missing MIP spline shaft I dropped from round 1. Sweet!. A-Main it was a toss solid or FIS. The solid just felt so good I had to see if it could take the win. Drag run went smoothly into the first rocks and I was able to get out front. It was a great race second position was right there most the entire race, all it would have taken was one mistake and Anthony would take it. He was fast. Everything worked perfectly on my UCFAB PRTHD. Pro-Line Racing PowerStroke Shocks and Hyrax tires continue to just perform for me. My Holmes Puller Pro 540XL 3500kv with 3s power gives me the speed and torque I need. The MKS HBL380 servo has all the power and speed. CowRC keeps everything clean and smooth.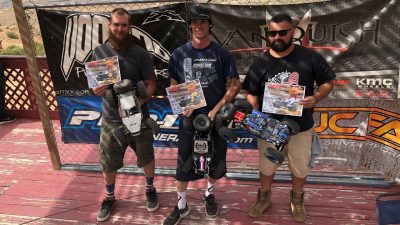 A-Main 2.2 Unlimited. I'm always helping and my competitors are one of them. This race is always tuff. Some of the top drivers were definitely having car trouble keeping them from taking this from me. Temps and battery connectors can definitely end a day of racing.
Land Rush Start for A main it's on!!! Man at the sound of the tone I'm not going to lie, I just pulled all the trigger and just thought well here we go. The TeknoRC DB48 just pulled it clear of most the field, oh man it's Jessi and I right at the first rock section. We bump and battle but he gets out from me. I was quickly able to get right next to 2nd and keep the pressure on till I was able to take 1st. I held 1st for the race but Richard was able to get his car to not over heat and now he was in 2nd and was right there till the end. If I had made a mistake who knows it was close. The Power from the Holmes Puller Pro 2100kv "Smooth", my Tekin controller, Futaba radio and MKS HBL599 servo, the TeknoRC DB48 was able to pull a 2nd win in the 2019 SoCalU4RC Summer Series.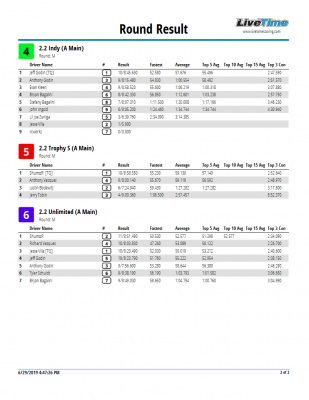 I want to thank everyone that made it out to the race. I want to thank Brian Jones and Tobin family for the hospitality.
I want to also thank Justin Bodewitz with the help with Instagram @U4RCcom be sure to check us out and please follow and like. Enjoy Scale RC. #u4rc 🏁
Thank you to my sponsors
#teamteknorc #teamprolinercing #teammksusa #mksservos #cowrcfactoryteam #teamholmeshobbies #sorgraphics #skgrcpainting #zlime!