2019 Summer Sizzler
Track- Thunder Alley / World of RC Parts.com
Location – Wilson, NC
Date– June 29, 2019
Classes –
Pro E-Buggy (XB8e '18)
Qualified–3rd/ Finished–3rd
E-Truggy (XT8e)
Qualified–2nd/ Finished–DNF
4wd SCT
Qualified–2nd/ Finished–3rd
Tyson Thomas –
Novice (XB8e '16)
Qualified–5th/ Finished– 4th
After racing 1/10th scale for several weeks, we switched over for a weekend of 1/8th scale racing at WorldofRCParts.com's Annual Summer Sizzler. The temperatures were in the upper 90s which taxed the electronics and the racers equally. Fortunately, I brought our little trailer and had the A/C blasting for the family. I spent more of my day on the driver's stand or marshaling so I didn't get to cool off as much as I would have liked.
The first round of qualifying wasn't the greatest, I was a little rusty and had spent the majority of the morning working with Tyson as he continues to learn. All my runs placed me into the A group and I continued to build on my qualifying times. In the 2nd and 3rd round of qualifying I was able to improve my driving and my seeding positions and started all three of my classes near the front of the grid for the A-Mains.
My first A-Main was E-Truggy, I was having a great run and had built a very sizable lead with less than two minutes to go. That is when a mechanical failure ended my run prematurely and eliminated my chance at even a top-3 finish and a spot on the podium. The pin in my rear driveshaft either broke or just flew out resulting in losing power to my rear wheels. I was driving extremely hard but smooth so I am not sure if the combination of hard driving and the heat played a factor but it was a hard way to end the day with my E-Truggy since it felt great and I was putting down fast laps that allowed me to pull away from a very strong field of drivers.
The second A-Main was 4wd SCT, the recent DNF in E-Truggy played a part in my 3rd place finish. The field in 4wd SCT was also really strong but I didn't push my vehicle hard enough as I was worried about thermal issues in the extreme heat. The concerns of a second DNF limited my driving and I was lucky to finish 3rd overall as I came out too slow and ended up chasing the leaders for a majority of the race. I need to find a way to secure a fan in my 4wd SCT so I can push my truck a little harder even on the hot days. I finished about 2 seconds behind 2nd place and a second in front of 4th place, so in the future I will have to make sure my truck is ready to handle the summer heat.
My final class was Pro E-Buggy and surprisingly I qualified 3rd overall against some really solid racers. In the main, I was able to get a clean start and maintained a decent gap from the pack. The 4th place racer had a very strong finish and made a serious run at the final podium spot. I was able to maintain a comfortable gap until the final few turns where he had closed the gap to less than 5 feet. I kept my lines clean for the final two turns and was able to cross the finish line in 3rd place, earning me a second plaque at this year's Summer Sizzler.
In Novice, Tyson did fairly well. There were 9 drivers and most of them were adults, he had a pair of 2nd place finishes in the qualifiers but the rocket round format saw him starting 5th in the A-Main. His consistency dipped a little bit as he started "chasing" the race as opposed to running clean lines. He ended up finishing 4th overall but it was a step in the right direction as he was racing against drivers that should honestly be in the Open division. He was happy with his progress and is looking forward to the next chance to race the adult novice racers. A few of them have already been kicked out of the Novice division at other tracks in North Carolina and Virginia but Tyson's ultimate goal is to begin racing Open as quickly as possible so it was good practice either way.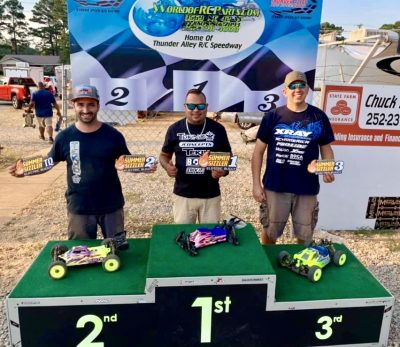 Next up is the 6th Annual Big Bang Trophy race at Beach RC over the July 4th weekend and a series of practice days at Ho-B Max in Durham, NC. Miranda and I are still trying to decide whether to attend, E-Nationals in a few weeks so we will have to see what kind of prep. work I can accomplish along with my school work over the next few days.
Sponsored Products Used –
Chassis
XRAY XB8e '18, XT8e,
Electronics
Maclan MR8 1950kv, MR4 4150kv, and Xpert GS-6401 & SI-4451 servos
Tires
Pro-Line Buck Shots (S3) and Blockades (M3)
Bearings
Boca Bearings Green Seals
Apparel and Decals
Stickit1Racing
Traction Compound
Sticky Kicks 'Grape'
Kevin Thomas – A2 Racing
C – (919)368-6613 / Email – kjthoma2@gmail.com
Pro-Line Racer Blog – Kevin Thomas
YouTube Channel – https://www.youtube.com/c/A2Racing
Facebook Page – https://www.facebook.com/A2Racing.RC/
Sponsors – – –
XRAY / RC America – Pro-Line Racing – Maclan – Xpert – Boca Bearings – Stickit1Racing
Sticky Kicks – Beach RC – Assault RC – Sire Screen Printing