This past weekend was the ROAR 1/8 Fuel Offroad Nationals held at Thornhill RC Raceway in Hutto, TX.
Wednesday was practice run by the track, it was an open format which made for a very long day and very difficult to make sure all our team had the pit help they needed to get as much practice as possible, my Dad and Mom were running all day to help out the team. With running, marshalling and then standing in line again for up to an hour to run again, it was an exhausting day.
Thursday was ROAR run practice with 2 seeding rounds, I seeded 3rd in truck and 2nd in buggy. My cars felt really good and I felt confident going into qualifying.
Friday was 2 rounds of qualifying, in the first round I felt my cars were really good, and I ran flawless runs but I just wasn't as fast and would qualify 6th in buggy and 3rd in truck. For the second round we discussed with the team what we could do to get more speed, in buggy although my fast lap was not up to pace I managed to TQ with another flawless run, in truck I would only get 3rd again still struggling to find pace.
Saturday was 2 more rounds of qualifying and we knew we needed to make some changes to get more speed. In the 3rd round of buggy I qualified 2nd, again I felt my car was really good. In truck we made some bigger changes and they were not that good and I only managed a 7th for the round. In the final round of qualifying I tried some tires that I was planning on running in the main and they were not good, and I finished 7th for the round. My 1st and 2nd finishes put me 2nd overall and I would start first in my semi. In truck we made some more changes to try and get more stability and I would end up getting 4th for the round. My results in qualifying would put me 4th on the starting grid for the main with team mate Tanner Stees starting in 3rd.
Saturday night we would rebuild both cars to get ready for the semis and mains on Sunday.
Up first on Sunday was the truck A main warm up, with the combination of Tanner's setup changes and my setup changes my truck felt amazing in the warm up. I felt confident for the main.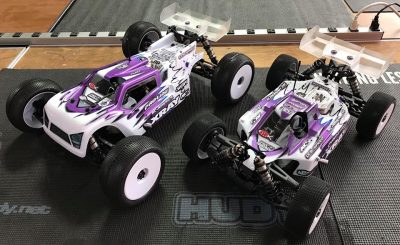 In the truck main I got a good start making my way up to 2nd and was putting pressure on first place and stayed competitive for the first 2/3 of the race but then it became evident that even though I wasn't making mistakes I was not able to keep up with the leader's pace and would drop to 4th where I would finish the race.
I would start 1st in the odd semi, and would lead the first third of the race, at which point maifield would take over the lead and again I would start to lose pace and it became clear that I would have to choose different tires for the main. I would finish 2nd in the semi and would start 5th in the final.
In the buggy final, we chose a bigger pin tire to try and keep me competitive longer. I was able to make my way up to 3rd in the first few corners and would swap positions between 2nd and 3rd for a good part of the race. Even though I ran a bigger pin tire it was still not enough for me to keep up the pace and I would fall back to 4th where I would finish the race.
This was a really disappointing race for me as I felt that I drove well and my cars were really good but my results didn't show that.
Thanks to my family for always supporting me, and thanks to my
sponsors, Xray, RC America, Pro-Line, O.S Engines, Hobbywing, MKS,
HUDY, VP fuels, Amain, Protek Rc, Lunsford, Avid RC, 110%, Darkside
design, Stickit1 and most importantly I want to thank my Lord and
Savior Jesus Christ, with out him I wouldn't be where I am today.