May 19, 2019 was the opening race of the Cap Pele race series, a six-race event, where the best 4 results counts for the overall standing.
The track had been completely redone. The track owner, George Thompson, did a really good job on the new layout. The race was supposed to be on Saturday, but the rain forced the organizer to move the race the next day. Because of this, a lot of racers weren't able to attend.
The day started a bit later than usual, because of timing software issues but I just gave me more time to get my cars ready. I decided to run 3 classes: 2wd buggy, 1/8 eBuggy and 1/8 eTruggy.

Q1:
2wd buggy. (TLR 22 2.0, equipped with Hobbywing XR10 Justock esc, on Pro-Line Racing 4-Rib M3 in front and Hole Shot 2.0 M4 in the rear). After a lap, I quickly realized that something wasn't right with my buggy. I was fighting with it to keep it straight as soon as I let go of the throttle. I was able to make the full 5 minutes, finishing 5th in my heat, giving me the 9th overall. After a quick inspection after my run, I found out a rear hub bearing went bad. I changed it and got the buggy ready for round 2.
1/8 eBuggy, (Tekno EB48, equipped with Hobbywing XR8 SCT Pro esc, on Pro-Line Racing Buck Shot M4, mounted on Velocity wheels). Ten racers registered for this race. I was really confident on my setup. Right after the start, my buggy felt really good to drive. I knew right away that I could be in the battle for a podium spot. Ran a clean run and was able to qualify 3rd.
1/8 eTruggy, (Tekno ET48.3, equipped with Hobbywing XR8 Plus, on Pro-Line Racing Hole Shot M4, mounted on Velocity wheels). Only 5 of us were in this class, which is usually really popular. I'm presuming that the fact that the race had been postponed because of yesterday rain played a role in that. I was able to get the pole for a few laps but was quickly passed. Truggy felt like it was only turning on one side, the other side having a really larger than usual turning radius. Still managed to finish in 2nd.
Q2:
As I was waiting on the track for my turn to start in 2wd buggy, a fellow racer hit me full throttle in the rear and caused one of my motor wires to break at the solder joint. I had to forfeit this round and wait for Q3 to test my new bearing.
1/8 eBuggy, I had a good run, giving me the 2nd rank in this heat. I wasn't as consistent as the first qualifier, but I was getting more confident with the buggy. I made a few changes to the ride height and added more front toe to get it more stable, which seemed to help.
1/8 eTruggy, I got a clean start and did a clean run. I got the TQ spot.
Q3:
The new bearing on my little 2wd buggy made a huge difference. I also had to re-adjust the gear mesh, since the motor moved from the impact in Q2. I finished 2nd in my heat, giving me the 5th position in this round. The buggy felt good to drive, but I knew it had place for some improvements. I made a few quick setup changes and got it ready for the mains.
1/8 eBuggy, another good run, where I placed 3rd, securing the 3rd overall position.
1/8 eTruggy, as the race line was starting to get a good groove, I decided to change tires. I opted for the Pro-line Buck shot M4 and it was the right choice. I finished 1st, securing TQ.
Mains:
In 2wd buggy, I started 3rd in the B main. I had to finish in the top 3 to bump up in the A main. I had a bad start which dropped me at the bottom of the pack, but I knew I could come back up if I raced clean. After the 3rd lap, I found myself in 2nd place. Next lap I was leading. I kept that position for 2 laps until I hit the pipe after miscalculating a turn. I fell to 3rd, then battled until the end of the 7 minute race with Shane Foote, exchanging position with him a few times. I had the best of it and finished 2nd, getting the 2nd bump up.
In the A main, I was starting in 8th on the grid. At the tone, it was a clean start, I made the pass on the inside and was able to climb up 3 spot, and held it for 2 laps, then I took advantage of a mistake from position 3 that got him and position 4 caught up together, and I took the 3rd position for a few laps until I got taken out by a car that I was lapping and fell back to 6th. I took a second to regain my focus and started climbing back until I was able to make a quick pass at the right moment in the last lap that gave me the 3rd place overall!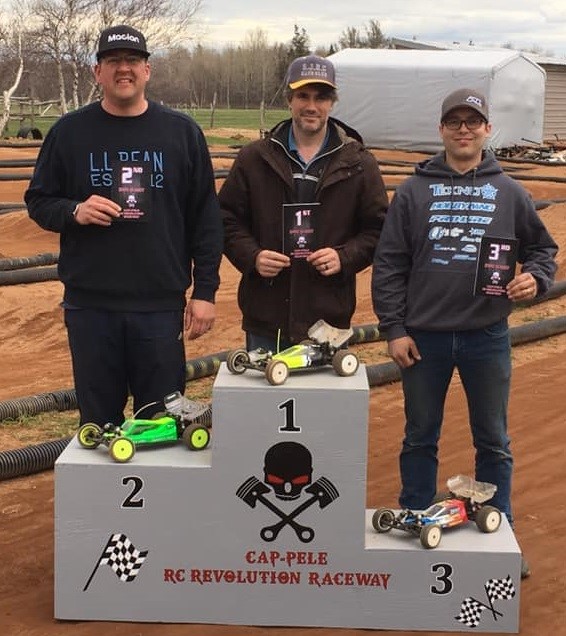 1/8 eBuggy, in the warmup laps, I lost a screw holding my steering knuckle and my dogbone got caught up and the buggy stopped so hard, I was convinced that my race was over even before having started. I came down the driver stand and with only 2 minutes to go before the start of the race, I gave it all to get it ready to start the race. I was able to fix it with about 15 seconds to spare! Back on the driver stand and ready to go, I was starting 3rd from the grid and I knew that I had a car to take another podium, but I didn't expect to finish in first! At the tone, I got caught up and fell a few positions back, but quickly regained my spot and to my surprise I was leading the race. As the time expired, I had maybe 2 seconds lead from the 2nd place when He made a mistake. That let me take a breath and I took the win!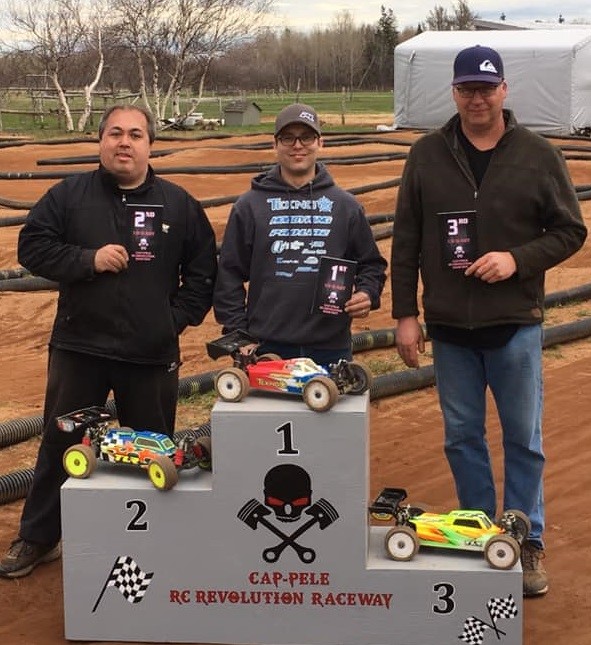 1/8 eTruggy, at the tone, everyone stayed in their starting position until lap 3. I found myself making too many mistakes and letting my pole position go. As the laps went, I felt the gap between me and Shane Foote, who was leading, was getting smaller. I caught up around the middle of the race and we exchanged position a few times, but he always got the best of it, holding on to his first. On the last 10 seconds, we were at the last corner and had lots of time to make another lap before the end of the race, he made a mistake and I saw a window! I took the inside and then BAM! He slammed into my side, taking both of us out of the track right after the finish line, under the driver stand. We then heard the end of the race, and we both had to finish our lap. As soon as the marshalls put us back on the track, he waited for me to go, but the damages were already done, my steering was all messed up. I tried as much as I could but had to settle for 2nd place.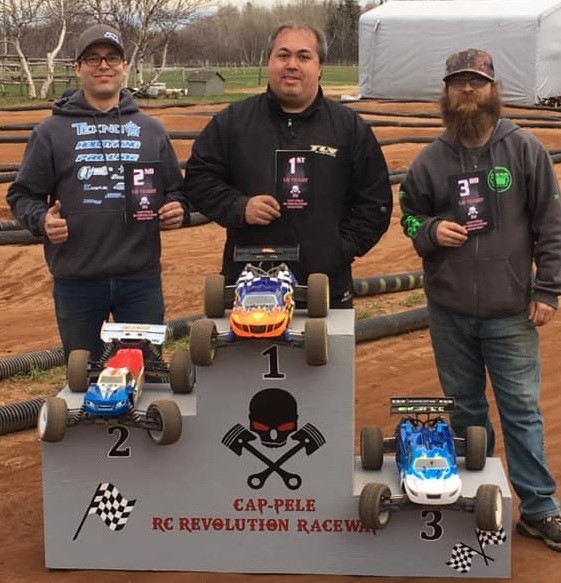 Highlight of the day was when a retired racer came to the track to see some racing, and I gave him my radio and Truggy for him to try. It was right before the 2nd Qualifier, and I asked him if he wanted to run the whole qualifier, but he didn't wanted to disrupt my race day.
He told me after that he really liked how my Tekno ET48.3 felt and that he will certainly get back into racing. It was really fun to watch him turn some laps.
– Stéphane Doucet