This past weekend was the Silver State Indoor World Championship held at the Southpoint Hotel in Las Vegas. This would be the second year that the race would be held at this venue, the venue is awesome. Based on what happened last year we knew that the track would blow out, but for some reason the track this year seemed to be a lot worse than last year. For me it felt like it was a bigger battle with the track that with the other racers. The track surface was super high bite in some areas and super low bite and dusty in other areas, this combined with massive holes, some deeper than the height of the cars and going all the way down to the concrete. This made it extremely hard to get around let alone race your competitors. The Xray/RC America team worked well together to get the best setup that we could to combat the track surface.
Wednesday was controlled practice with 2 five minute rounds of practice for each class done in heats, the track relatively smooth and low bite to start. The last round of practice seeded us into our heats for qualifying, I seeded 5th in truck, 1st in nitro buggy and 3rd in e-buggy. By the time qualifying started on Thursday the track was already in pretty rough shape which made really up and down qualifying rounds for most people as everyone was trying to get their cars setup for the surface. I would qualify 2nd in Truck, 3 in nitro buggy and 6th in e-buggy.
Saturday would be electric buggy and truck mains. We used the warm ups to do some final testing, since the last time we had run on the track was more than 24 hours prior. Truck main was up first, I had a bit of a rough start, even though I had adjustments to my truck it was still hard to drive with all of the bumps and high grip surface spots. I started to get in a groove and caught back up. I had a good battle with the top 4 for a good portion of the race, I lost touch with the 1st place car and had to battle for 2nd which continued all the way to the end of the race. Unfortunately in the end I finished 3rd.
Up next was the e-buggy main, we also did some last minute testing in the warmup and I thought my car was really goo at the beginning of the main, and I got up to 3rd but it was short lived as I had a wheel bearing blow up that took away my front drive, this has never happened before and I really don't know what caused it to happened. I felt with the way my car was I could have been a top contender.
Sunday was the nitro buggy main, in the warm up Tanner and I tried different things on our cars but ran together to see the difference in speed of our setup changes, and then make a decision for the final.
By the time my main came along the track was at it's worst, the holes were much bigger and sharper and they was a lot more dust on the surface than what we had experienced up to this point. It was extremely challenging to get around without crashing let alone race with people. In the first part of the race the top 4 pulled away a bit, Dakotah, Elliott, myself and Joao, unfortunately Dakotah would have another failure that put him out of the race. It would become a battle between Elliott and I for the 2nd half of the race, I would come close to Elliott quite a few times, then I would make a mistake and allow to pull away a bit. In the end I just wasn't able to get by him and I would finish 3 seconds behind in 2nd place. Congratulations to Pro-Line team mates Eliott Boots for the win in nitro buggy and Joe Bornhorst for the win in nitro truck.
We will be doing some more rough track testing the rest of this year as I don't expect the track to be any different next year.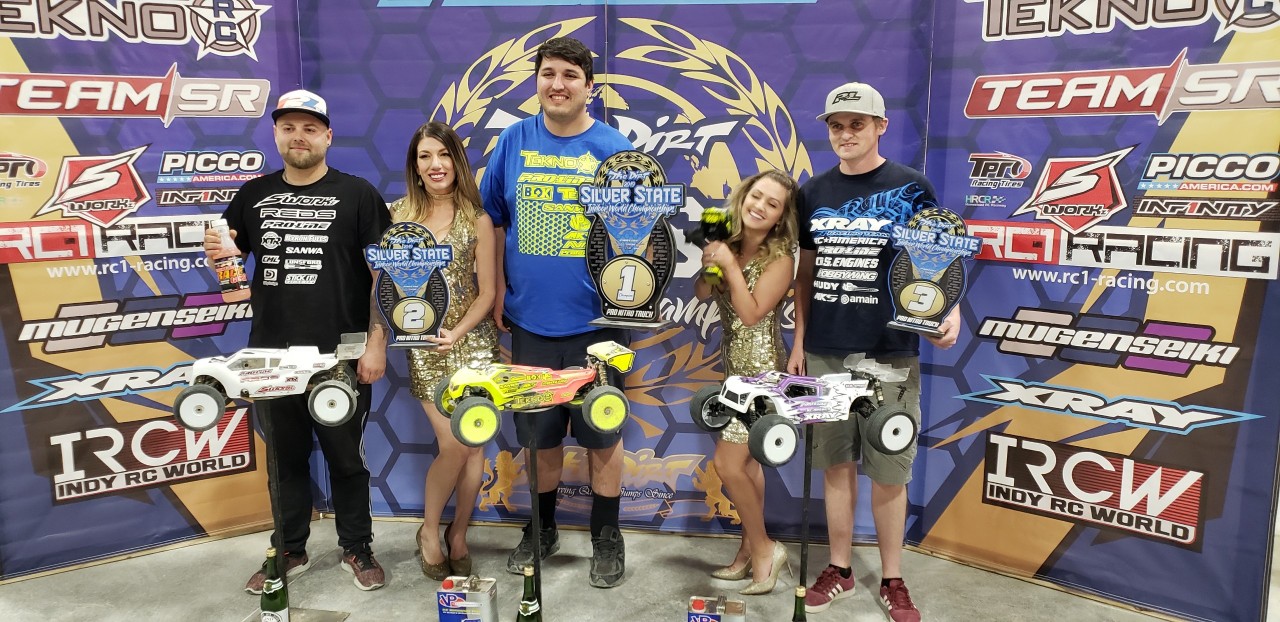 Thanks to my family for always supporting me, and thanks to my sponsors, Xray, RC America, Pro-Line, O.S Engines, Hobbywing, MKS, HUDY, VP fuels, Amain, Protek Rc, Lunsford, Avid RC, 110%, Darkside design, Stickit1 and most importantly I want to thank my Lord and Savior Jesus Christ, with out him I wouldn't be where I am today.
– Ty Tessmann