Hole Shots, Buck Shots, Slide Locks work well in the northwest. Our clay track Positron is the tire of choice. Electron works well also.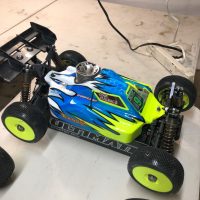 Winter Rage At the X was in Walla Walla,Wa Feb 2,2019.The temps averaged in the 40's . Nitro Buggy the 45 min A main I ran S4 Buck Shots, finished the whole main still had plenty of tread left. Nitro Truggy I ran S4 Hole Shots tires worked well the track never dried out so tire wear was not much of an issue. E-Truggy I ran S4 Buck Shots for all three Amains , tire was awesome.
Holiday Hangover took place in Moses Lake,WA March 1, 2019. The temps were in teens,so it was very cold racing. S4 Buck Shots were the tire of choice Friday and Saturday. Main day the S4 Buck Shots worked well For Truggy, and M4 Slide Locks were awesome for Nitro Buggy main.
Winter Rage At the X: 5th Place