This past weekend we traveled to Columbus, Ohio to Sparks RC Raceway for the Factory Tracks Invitational race. The track was prepped very well, it was a really fun, flowing layout with a super smooth surface. It was very obvious that the track builder, Galen McCreary put a lot of attention into the track.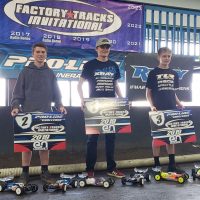 The race format was Reedy Race style, with a spec tire and spec sauce with no tire prep allowed. This race featured some of the top drivers in the midwest. Friday practice went really well but setup was a little bit tricky as the track would have been ready for a slick but we were running a treaded tire due to the tire rules.
I felt my cars were really good and I was ready for racing on Saturday. We raced 4wd on Saturday, there were 5 heads up races with 1 drop allowed, I had 4 firsts and 1 second which put me in the lead for 4wd and the lead going into Sunday. Sunday was the 2wd race day, again my car was good, I had 1 second, 3 firsts and a 5th, which again would give me the lead in 2wd and I would finish 1st for the overall.
Thanks to everyone involved in putting on the race, it was a really fun race.
Thanks to my family for always supporting me, and thanks to my sponsors, Xray, RC America, Proline, O.S Engines, Hobbywing, MKS, HUDY, VP fuels, Amain, Protek Rc, Lunsford, Avid RC, 110%, Darkside design, Stickit1 and most importantly I want to thank my Lord and Savior Jesus Christ, with out him I wouldn't be where I am today.
-Ty Tessmann