This past weekend me and Jeremy McGuigan made the trip down to White Pine, Tennessee for the 2019 PNB! The class that I ran this weekend was Open E-buggy. Qualifying didn't go good at all but On Sunday I was one spot short of the bump spot. Overall it was a great weekend and I plan to go out and practice more each week!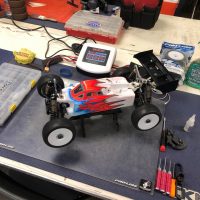 I wanna thank Matt Lance, Jeremy McGuigan, and Jared Wiggins for all the help this past weekend.
The tires of choice that I ran mostly for the event were Pro-Line M4 Hole Shots that had my car gripped up!
My Tekin Electronics ran flawlessly m and performed strongly all weekend 👍🏼
It was nice seeing all my friends that I haven't seen in awhile!
Lastly Id like to thank all my sponsors for all the help and support!
Tekno RC
Team Tekin Racing
BIG Leads RC
#ducksauce
– Robbie Lance