This past weekend I raced at the Big Barn Shootout in Chilliwack, BC. The track was very large, fast and a cool layout. This year they had a lot more entries which made for longer days and stiffer competition, with drivers coming from as far as Ontario and the North western United States as well as western Canada. The higher numbers made the track surface different from last year, it started out smooth and low grip, as the weekend went along the grip came up and the track started to develop some holes and ruts, which made the main events more challenging.
I decided to only race 2 classes, nitro buggy and e-buggy so that I would be available to help anyone who wanted help. Friday morning we did a clinic, which was a lot of fun and I believe well received by the participants. Official practice started at 11am and went until 10pm, this was limited to 5 practice sessions per class entered and was regulated by punch cards. I got my cars dialed in and my tire choice figured out.
Saturday was 3 round of qualifying and I was able to take the tq in both classes and I was looking forward to the mains.
Up first on Sunday was A1 of e-buggy, I got a good start and was able to lead the race from start to finish. I used A2 of e-buggy to test tires for the nitro main one more time and was again able to take the win which gave me the overall win in e-buggy. Next up was the nitro buggy main which was 30 minutes long, everything went smoothly and I was able to take the win.
Congratulations to team mate Rob Sojornen for winning e-truggy and getting 2nd in 4wd, the whole team worked well together all weekend.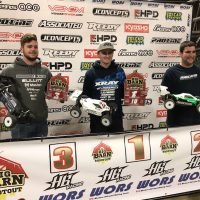 I want to give a shout out to the organizers for putting on a great race and for inviting us to come, we had a great time.
Once again all my equipment performed flawlessly, thanks to all my sponsors who make this possible and give me great products to race with, and support me. Xray, RC America, Pro-Line, OS Engines, Hobbywing, MKS, VP Fuel, A Main Hobbies, Protek RC, Hudy, Lunsford, Avid, StickIt 1, Darkside Designs, OCRC, 110% Racing, Live RC, Red RC.
Thanks to my family for always being there for me and helping me, and most importantly I want to thank my my Lord and Saviour Jesus Christ, I wouldn't be where I am today without him.
– Ty Tessmann